Workshops
Indigo Dye Workshop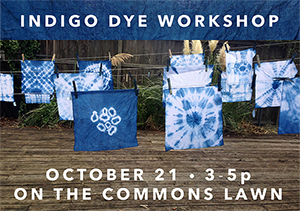 Join us to create beautifully patterned handkerchiefs with simple resist techniques and indigo dye, one of the oldest plant-based dyes. Participants will learn several shibori techniques to create intricate patterns by clamping, folding, and tying a cotton and silk. After each piece is dipped into a dye vat, get ready to be surprised! The indigo will oxidize as the handkerchief unfolds, turning the cloth from green to a deep blue revealing the unique patterns you have created.
Free for LSC-Montgomery students
Tuesday, October 21, 2014 from 3 p.m. to 5 p.m.
Location: The Commons Lawn
To register, contact Delaney Smith at Sara.D.Smith@LoneStar.edu.