Santiago, Chile June 10 - 21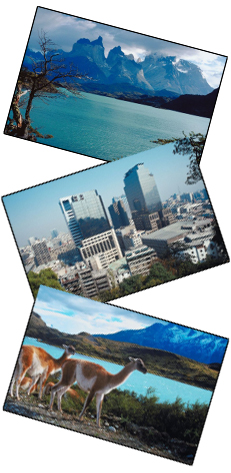 Join us for our first summer in beautiful Santiago!
College Credit / Leisure
Community college, university and early admission high school students may apply. Earn college credit for SPAN 1411, SPAN 1412. These credits apply towards your associate degree and are transferable to higher education institutions. Adult leisure travelers are also welcome.

Travel Benefits
You will live with a friendly Chilean host family carefully selected by our partner Institute, Escuelas y Centros de Español en Latinoamérica (ECELA); enjoy home-cooked meals, shared room and bathroom. Housing is a short bus ride or walking distance from campus.
Eat breakfast with the family; arrive on campus at 9AM; formal classes end at 12:40 p.m. Eat dinner with the family at 3PM. Enjoy guided tours in the afternoons and weekends in Santiago and nearby cities, Valparaíso, and Viña del Mar.

Check out these programs:
Spanish Language & Culture- Faculty Sponsor: Norseman Hernández
At A Glance
Location
Santiago and Valapraíso - you will be studying at Escuelas y Centros de Español en Latinoamérica (ECELA) for 12 days. On June 18th, we travel by to Viña del Mar and Valparaíso.
Travel Dates
Depart on Thursday, June 10 and return on Monday, June 21, 2010.

Passport
A valid passport is required.
---
Program Costs
Program Cost of approx. $2,199 includes the following:
Roundtrip airfare
Bus transportation to/from airports in Chile & tours
Placement exam; Spanish classes (Levels 1-7) taught by ECELA professors (Spanish Immersion) or Cultural lectures (English Literature)
Home-stay (12 nights) with Chilean family and at least 2 meals daily, shared bedroom/bath
Guided tours, entrance fees: Santiago Centro and Pablo Neruda Museum
Salsa dance lessons with ECELA dance instructor
Private transportation from Santiago to Viña del Mar and Valparaíso, City tour Bella vista neighborhood and Vineyard visit
Note:itinerary and prices subject to change without notice in the event that we are subjected to cost increases.

Refund Policies
March 12 - All payments less $100 deposit for round trip airfare
April 23 - All Program Cost payments less airline ticket and $100
April 26 - All payments less cost of airline ticket

No refunds after May 9
Key Dates
Jan 15 - $200 deposit to reserve place in program
Feb 4 - LSC Study Abroad Scholarship application deadline
March 1 -payment of $666.30
April 1 - payment of $666.30
April 15 - ECELA receives admission and housing preference forms
May 1 - payment of $666.30 with completed forms, copy of passport
May 7 - Passenger names confirmed with Airlinecarrier

May 7 - mandatory orientation

May 31- start date for SPAN 1411 and SPAN 1412
June 2 - ECELA assigns home-stay family contact, address, phone number
Other Costs
Other expenses not covered above: LSC-Montgomery tuition (Study Abroad only), Spanish workbook, laundry, restaurant meals, snacks, city bus and metro fare, personal items, museum camera usage fee and $131 airport fee at the time of arrival in Chile for all US Citizens.
Financial Aid
Lone Star College has needs-based scholarships for Study Abroad that may cover up to 75% of the cost. If you have not already applied for financial aid, go to http://www.fafsa.ed.gov/.

Application Application
Apply online and pay the $200 deposit. Obtain an application packet in-person or by mail. The packet includes Lone Star College and Escuelas y Centros de Español en Latinoamérica (ECELA) required travel forms. Tentative admission is granted upon receipt of completed forms. You will be notified of admission to program in writing.
Credit Courses
SPAN 1411 41401 Beginning Spanish I (4 credits)
SPAN 1412 41401 Beginning Spanish II (4 credits)
Attendance at credit classes at LSC-Montgomery one week prior and one week after trip is required. You must also be in Chile for the entire program. No exceptions!! Check the summer schedule for days and times.

Group Activities
All Spanish Immersion and English Literature participants must attend scheduled activities:
May 7th orientation

Summer Session credit classes one week prior to departure and one week upon return
Orientation, ECELA campus tour, placement exam in Chile
ECELA campus classes, Monday to Friday, 9AM-12:40PM

Santiago, Bella Vista, Viña del Mar and Valparaíso tours
Travel Abroad Tips
Studying abroad can be a fun and safe experience but it is important to realize that you are subject to the laws and customs of another country. Here are some tips prepared by the U.S. Department of State Office of Overseas Services to help keep you prepared and safe.
Although most trips abroad are trouble free, being prepared will go a long way to avoiding the possibility of serious trouble.
Become familiar with the basic laws and customs of the country you plan to visit before you travel.
Remember: Reckless behavior while in another country can do more than ruin your vacation; it can land you in a foreign jail or worse! To have a safe trip, avoid risky behavior and plan ahead.
All participants must comply with the policies of Lone Star College, Escuelas y Centros de Español en Latinoamérica (ECELA), and Chilean laws. For more information, go to http://travel.state.gov/travel/cis_pa_tw/cis_pa_tw_1168.html.
About Escuelas y Centros de Español en Latinoamérica (ECELA)
http://www.youtube.com/watch?v=N4ZlMC2yYbw
http://www.ecela.com/index.php
Your credit will be posted to your Lone Star College academic record soon after the program ends.
Exchange Rates
To see a daily exchange rate of the U.S. Dollar to Chilean Peso, go to: http://finance.yahoo.com/currency?u
Learn more about Chile