OTS Out & About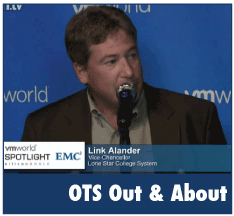 Lone Star College's Technology Connection Newsletter
Our monthly newsletter details up-and-coming technologies being utilized in higher education, showcases how our faculty and staff are using technology, and provides details on current and upcoming OTS projects. The newsletter is provided to our Board members in print format at the monthly Board meetings, and it is provided in electronic format for all of our faculty and staff.
Check out the latest edition, or revisit old favorites, by visiting the newsletter archive.
Have an idea or suggestion for the newsletter? Let us know! Send a note to OTS Communications.
OTS Awards and Recognitions
Lone Star College's Office of Technology (OTS) has won numerous awards over the years. Leaders in higher education and technology fields regularly provide us with accolades for our innovation and leading-edge techniques in providing a top-notch system to our customers - the faculty, staff and students of Lone Star College.

The following is a list of some of our most recent awards and recognitions:
2013-2014 Digital Community Colleges Survey Top Ten-Ranking Winners
Campus Technology, Innovators Award 2013
Center for Digital Government, Best in Texas 2013
Center for Digital Education, Large College Survey Winner 2012
Campus Technology, Innovators Award 2012
Center for Digital Government, Best in Texas 2012
Computer World, Laureate Class of 2012
Center for Digital Education, Large College Survey Winner 2011
Symantec, Visionary Award 2010
OTS Presentations
Lone Star College's Office of Technology is regularly asked to do presentations for a variety of groups around the country to help other educational institutions and businesses learn from our experience. Check out some of the informative and data-packed presentations we have given:
OTS in the News
Lone Star College's Office of Technology is highly regarded in not only higher education, but also by businesses, for our innovation and forward-thinking. Check out some of the wonderful articles and presentations that have been written about us, or that we contributed to, to learn more: