About OTS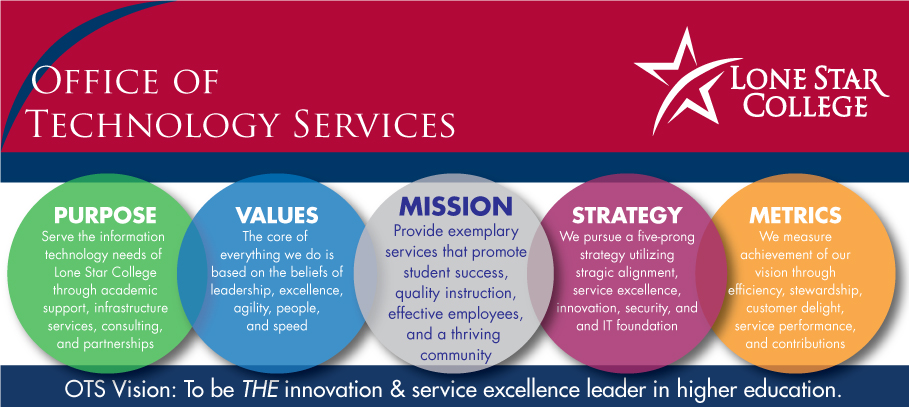 Our Organization
Lone Star College's Office of Technology (OTS) consists of four functional areas:
NOTE: Prior to January 2015, the functional areas of Business Services and Client Relations & Communications were also under OTS. Since then, these areas make up the Office of College Services supporting both OTS and AIR (Analytics and Institutional Reporting).
Fundamentally, our business operates on a framework built around four main functions:

Decision Making

Strategy. We determine the department's strategic alignment, research and develop resources for innovation, manage our IT enterprise planning system, and champion the idea to "Simplify IT".
Governance. We provide consultation and advising services, identify upgrades, as well as develop and provide training.
Advisory Councils. OTS has built, and participates in, partnerships at the system, campus, and student levels to identify and resolve issues as well as disseminate information.
Planning. We develop and execute IT strategies, tactical planning and the IT operations framework for the entire Lone Star College.

Execution

Service Excellence. OTS strives to manage customer expectations and measures performance to ensure the highest expectations are being met consistently.

Project Management. Our team develops and oversees projects to ensure they increase ROI as well as balance resources, and follow best practices.

Change Management. We schedule routine maintenance and document changes to help reduce risk.

Standard Operating Procedures. OTS has created standard operating procedures to provide direction, improve communication, and ensure consistent delivery.

Communications. We utilize a C3 approach by delivering messages at least 3 times, to 3 audiences by 3 methods such as through newsletters, an external Web site, and an internal SharePoint site

Foundation

Enterprise Applications. We provide continuous quality management, develop and execute administrative, academic and student systems, manage business process maturity, and track big data analytics.

Technical Services. We provide infrastructure as a service, manage a fully-functional cloud computing system, provide mobility, install and maintain voice/video/data systems, and manage all telecommunication systems across the college system.
Capacity Management. OTS forecasts infrastructure growth, manages the resources needed to maintain that growth, and always looks for ways to improve performance.

Lifecycle Management. Our team develops and maintains hardware standards, manages classroom standards, establishes regular replacement cycles, and manages assets.

Services

Campus Services. Our teams provide instructional, desktop, audio/visual, and event support to faculty, staff and students

Service Desk. Our desk operates 24x7, 365 days a year providing phone support, alert monitoring, and customer service.

Self-Service. We develop and encourage users to use self-help tools, and we offer a chat function to put customers in 1:1 touch with our technicians.

Service Catalog. Our service catalog boats a wide array of student, faculty, staff, and network services.

Security. We maintain backup and recovery systems, encryption, security systems, and identity management.
IT Operations Framework, Strategy, and Strategic Plan
IT Operations Framework
The Information Technology Operations Framework describes how OTS operates in support of Lone Star College's mission and vision. The framework describes the overall structure of OTS, including:
How the department is organized

How it is funded

Who makes decisions

How successful achievement of goals is measured
The Operations Framework is written to compliment the IT Strategy and IT Strategic Plan documents and to provide a framework for the IT Tactical Plan. This Framework provides details on managing assets and operations activities, and it is also used to drive management best practices and quality improvement efforts.
IT Strategy
The Information Technology Strategy provides vision and direction on how OTS Lone Star College's mission and goals. This Strategy is used to drive investments, decisions and activities.
IT Strategic Plan
The Information Technology Strategic Plan outlines the vision of the department for the next several years and is used to drive project activity at a high level. This Plan provides an outline of initiatives, costs, benefits, risks, and measurements that will be executed to achieve the IT strategy.
Annual Report
The Office of College Services Annual Report offers transparency and insight to the customers we support. The scope of the report is a high-level review of the past year's accomplishments by the Office of Technology Services and the Office of Analytics & Institutional Reporting, as well as statistics and facts about our day-to-day operations and strategic plan. Although every IT project is directly tied to and aligned with supporting the mission of Lone Star College, our IT strategy allows us to approach initiatives with a specific focus so we are continuously improving in all areas.