Jazz Ensemble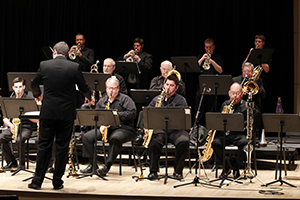 The Lone Star College-Montgomery Jazz Ensemble is open to all students, faculty, staff and community members from the surrounding area who possess a love of Jazz music and have previous experience reading music and playing an instrument or singing in the jazz style. While focusing on music written in a big band tradition, the Ensemble explores all areas of Jazz styles including swing, rock, funk, and bebop in addition to music with Latin and Afro-Caribbean influences. Although not required, opportunities for developing skills in improvisation are provided and highly encouraged. 
Ensemble members will also have an opportunity to perform with guest artists and musicians from the local community and the Greater Houston area. If you are interested in joining the group, no matter how long it has been since you've picked up an instrument, you are invited to do so! The Ensemble meets Tuesday nights from 7:00 - 9:30 p.m. Come join the fun!
For more information, contact Cristina Mendoza, Director of Bands at Cristina.E.Mendoza@LoneStar.edu.