Officers 2016-2017
Brandon Skidgel, President
Brandon graduated from Porter High School in 2015, where he held many student leadership positions. While currently in the Honors College at Lone Star College-Kingwood, Brandon is also an officer of the Honors College Student Organization, a Fellow in the Chancellor's Fellowship program, and President of the Student Government Association. Brandon plans to graduate in May 2017 with an Honors Associate of Science, in hopes of attending either the University of Texas or Texas A&M University, and earn a Master of Aerospace Engineering degree. As an outgoing member on campus, Brandon focuses on challenging and helping his fellow students to overcome their academic obstacles so that they may succeed in their life's goals.
Eric Platero, Executive Vice President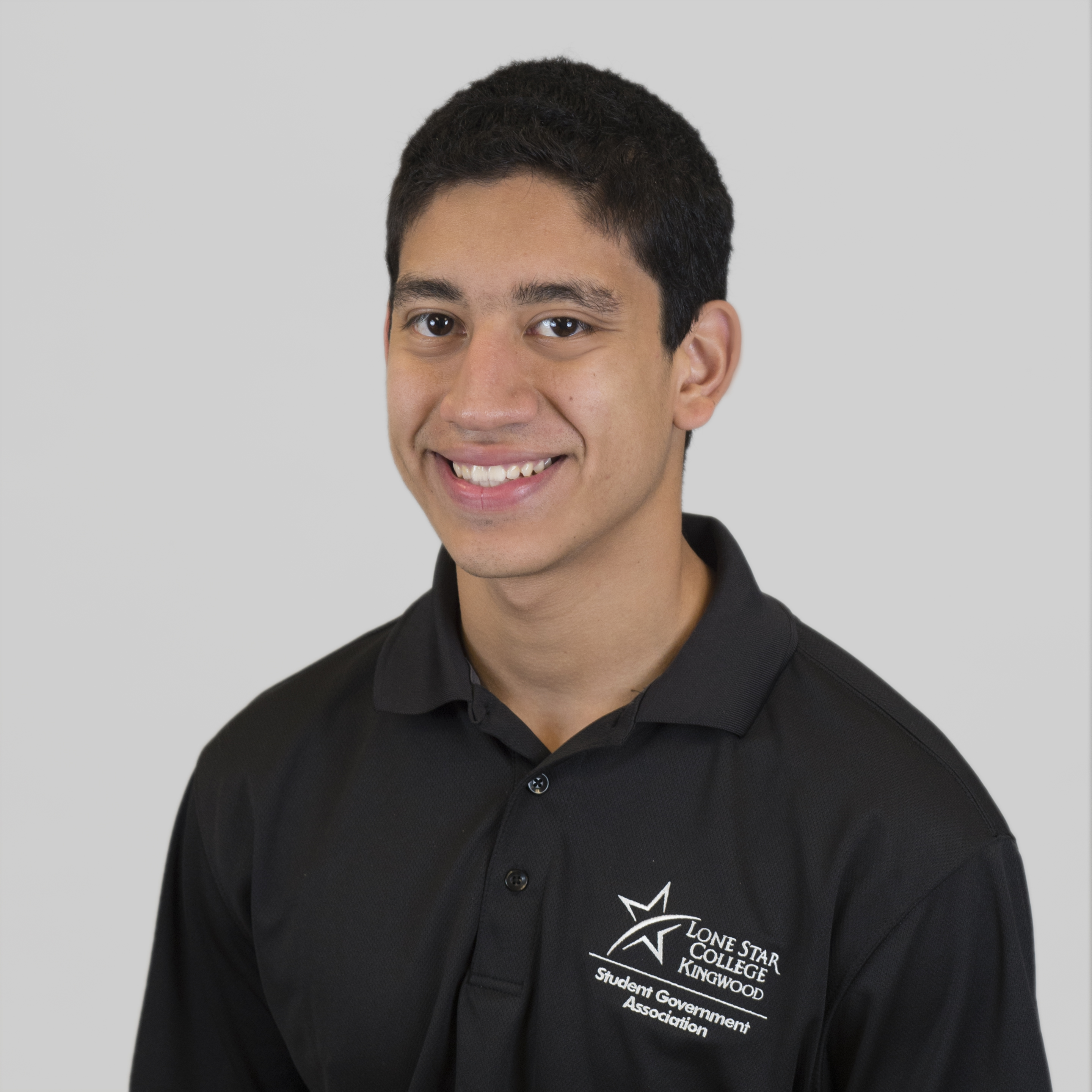 Erick was born in El Salvador and moved to Texas in 2009. He graduated from Kingwood High School in 2016 where he found his passion for Finance. Erick came to Lone Star College-Kingwood to grow as a person and as a leader. He currently holds the position of Executive Vice President. He hopes to help people reach their goals by representing their needs and interests while also striving to make LSC-Kingwood the best it can be. Through hard work and dedication, he plans to transfer to the University of Austin or Texas A&M University in the fall of 2018 where he ultimately wished to earn a Master's degree in Finance.
Austin Schafer, Vice President of Finance
Austin was born in Oklahoma, raised in Pennsylvania, and in 2008 moved to Houston, Texas. He continued on to high school where he then found his calling in the field of engineering. Graduating from Kingwood High School in the class of 2015, he immediately moved on to Lone Star College-Kingwood where he now pursues his Bachelor's degree in Mechanical Engineering. Austin realizes the importance of hard work and perseverance, and has a passion for serving others. Currently, his main co-curricular focus is his responsibility to the student body through SGA. He is also deeply involved in his home church where he serves as a leader in the youth ministry. He plans to transfer to Texas A&M University in the fall of 2017.
Andrea Garcia, Vice President of Legislative Affairs
Andrea is a native Houstonian and was born in Humble, Texas. She is a first generation college student, and she has both a younger and older sister. She is compassionate toward her peers and has great interest in making a difference for students on campus. Andrea's bubbly personality led her to the Office of Student Life, where she began working in spring 2016. In that role, she assists with Registered Student Organizations and campus wide events. She joined the Student Government Association, because she saw an opportunity to develop her public speaking skills and challenge herself to try new things. Her role as Legislative Affairs VP has enabled her to become more confident and assertive in her communications. She hopes to graduate from Lone Star College-Kingwood with an Associate of Applied Science in Business with a focus on Marketing.
Nileh Irsan, Vice President of Public Relations
Nileh, 19, is in her second-year at Lone Star College-Kingwood. In addition to her current role with SGA, she is also a member of the 2016-2017 Lone Star Leadership College cohort. In 2015-2016, she served as a delegate for the National Model United Nations organization. She is currently set to graduate with an Associates of Arts degree in the Spring of 2017 and plans to transfer to Texas A&M or University of Houston to major in Mass Communication and Minor in Public Relations. Ultimately, she wants to obtain a Master of Science degree. Nileh is Jordanian-American, born and raised in Conroe, Texas. Her main focus is to maintain a vigilance in freedom of speech to ensure everyone is heard and cared for equally. Nileh believes that through education, we can all overcome adversity and better ourselves to reach our fullest potential
Sarah Porter, Vice President of Records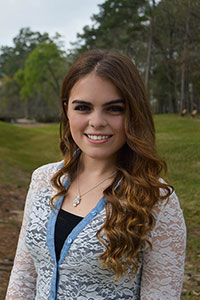 Sarah Porter grew up in Cleveland, Texas and spent her high school life in east Houston. She was homeschooled for most of her elementary and high school career, continuing in high school as a dual credit student. She was a member of a Fit-Tech swim group. Sarah loves to be proactive in her community and to assist where she is able. During all four years in high school, she volunteered for the local food fair once a month. In addition, she was heavily involved with her church youth group to give back to both children and elderly in the community. Sarah is working towards her Associate of Arts degree and wants to transfer to either Texas A&M University or the University of Houston. She is seeking to obtain a Master's degree in Business.
Tracie Kamenoff, Student Government Association Advisor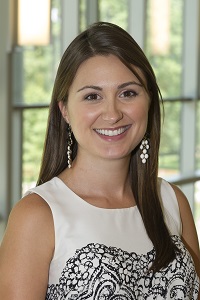 Tracie Kamenoff returned to Lone Star College–Kingwood to work full-time after having attended as a student from 2004 to 2006. For almost a decade, Tracie has been committed to student success and has served in a variety of roles including event coordinator, student mentor, psychology research assistant, grant writer, director for summer grant programs, advisor, and now department manager. She began this journey as the Chapter President of Alpha Lambda Xi, Kingwood's chapter of Phi Theta Kappa International Honor Society. Serving in that role changed the way Tracie viewed leadership and is a big part of why she enjoys what she does in the Office of Student Life. Tracie received a Bachelor of Science in Psychology in 2008 from Sam Houston State University and a Master of Science in Industrial-Organizational Psychology in 2010 from Lamar University.