Dr. Eiki Isomura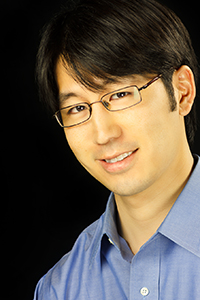 Education: D.M.A. Orchestral Conducting, University of Michigan
M.M. Orchestral and Opera Conducting, University of Arizona
Bachelor of Music, University of Michigan
Email: Eiki.Isomura@lonestar.edu
Professional:
Dr. Eiki Isomura currently serves as Director of Orchestral Activities and Assistant Professor of Music at Lone Star College-Montgomery, where he leads the orchestra and chamber music program and teaches courses in music theory and history.
Isomura was recently appointed principal conductor of Opera in the Heights (OH) after stepping in as interim conductor to lead the second half of the company's 2014-15 season to acclaim from critics and collaborators. He will music direct OH's 20th anniversary season, which will include I Pagliacci, Medium/Telephone double bill, La Cenerentola, and Orfeo ed Euridice.
Since 2013 Isomura has served on the music staff of numerous productions with HGOco, Houston Grand Opera's community collaboration and education initiative. As pianist/coach, he musically prepared and performed in the world premieres of The Memory Stone and River of Light, two fully-staged chamber operas in HGOco's East+West series. In addition he served as assistant conductor/pianist for HGOco's most recent production of Past the Checkpoints and co-music director/pianist for two concerts, Music of Memory and Hope and Kristallnacht -75th Commemoration.
In 2012 he completed a Doctor of Musical Arts degree in Orchestral Conducting from the University of Michigan where he was named graduate conducting fellow and conductor of the Campus Symphony and Philharmonia Orchestras. He has conducted the National Arts Centre Orchestra in Ottawa as a member of its conductors program led by his mentor Kenneth Kiesler. Isomura made his European conducting debut at the CCM Spoleto Festival in Italy. He has led performances with the University of Michigan Symphony and Philharmonia Orchestras, Kalamazoo Philharmonia, Arizona Symphony, and the ensembles of numerous conducting workshops in the US.
His past positions include assistant conductor with Opera in the Ozarks, vocal coach with Moores Opera Center, and touring pianist with Arizona Opera's young artist program. He has also conducted performances with University of Arizona Opera Theatre, Arizona Repertory Theatre, and the University of Michigan Opera Theatre.
He has studied orchestral and opera conducting with some of the most renowned teachers in the profession including Kenneth Kiesler, Thomas Cockrell, Martin Katz, Colin Metters, Gustav Meier, and Mark Gibson. Isomura also holds an MM in Orchestral Conducting from the University of Arizona, where he held two fellowships and served as conductor of the UA Philharmonic. He earned a BMA in Music Theory with a History of Art cognate from the University of Michigan.
He resides in Houston with his wife, Monica Isomura, mezzo-soprano and his most trusted collaborator.
Please visit http://www.eikiisomura.com for performance calendar, blog, and other materials.
[Updated 6/3/15]