LSC-Kingwood: Public Achievement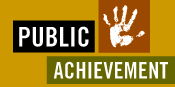 Public Achievement is a youth civic engagement initiative focused on the most basic concepts of citizenship, democracy and public work. Public Achievement draws on the talents and desires of ordinary people to build a better world and to create a different kind of politics.
Public Achievement is used in schools and communities in several states, and around the world in Turkey and Eastern Europe, South Africa, Northern Ireland, Isreal, and Gaza and the West Bank to build democracy and solve community problems.
Information
Dr. John Theis
Advisor
Email: Dr. John Theis
Phone: 281.312.1741
Office: LIB 206-G