LSC-Montgomery Outreach and Retention
Get STARted!!
Welcome to the Lone Star College-Montgomery Outreach and Retention! The Office of Outreach and Retention helps students attend college and succeed in achieving their goals. We are committed to keeping our doors opened to prospective students and their families.
Want a chance to get a glimpse of our spectacular campus? Lone Star College-Montgomery is small enough to give the feeling of being a part of a small supportive community, but big enough to provide many of the amenities of a 4-year institution. Join us for a campus tour to see for yourself!
Our office hosts many events and services that allow you to interact with campus representatives that are here to help you envision yourself as a proud member of the Maverick family.
Let us know how we can help YOU get STARted at Lone Star College!
Services
Monty Mondays
Monty Mondays are the first and third Mondays of each month, and are the official tour days at Lone Star College-Montgomery. Tours take approximately 45 minutes, and give you plenty of time to grab lunch at our on-campus dining hall, hang out in our common areas, and take in the scenery. Read More »
Group Tours
Group tour accommodations are available for parties over 15 people. Tours are about an hour long, and you will be able to see all that out Montgomery campus has to offer you. Tour our academic buildings, library, gym, common areas, and more! To request a group tour, fill out the Outreach Activity Request Form. Once your registration request is processed, you will receive an email confirmation. Read More »

On-Location Registration for High Schools
Our Outreach Advisors are committed to ensuring no student misses the opportunity to enroll or register for dual-credit, or to register for their first semester as a college student. Every high school in our community is visited once every other week by their own Outreach Advisor. During our visits, we facilitate application processes, dual-credit enrollment, and serve as a direct source for students and parents to reach out to with any questions they might have about college.
Senior Connection for High Schools
If your high school or organization has a group of seniors that need to complete the rest of their steps to fulfill their admission requirements, Senior Connection is the place to be! Here, students can:
Complete Financial Aid Application
Complete Placement Testing
Fulfill Bacterial Meningitis Requirement
Complete New Student Orientation
This is also a great time to get yourself acquainted with the campus and meet other students who will be starting up at Lone Star College with you. If you are a school that would like to attend a Senior Connection Day, contact your Outreach Advisor for more information on dates. If you are another business or organization, contact Laura Cardiel at: Laura.M.Cardiel@lonestar.edu.
Mobile Go
Our Mobile-Go Center is Lone Star College's way of reaching out to the community to ensure that any prospective student has access to apply for admission to our institution. You can find us on certain days at your public library, at a high school football game, and almost anywhere else in the community! For more information on where you can find our Mobile-Go Center or to have us come out to your establishment, contact Beau Williams at: Michael.D.Williams@lonestar.edu.
Presentations
Elementary School or Middle School
If your school would like to have our outreach team to come out to your campus to give a presentation to your students on the importance of attending college, benefits of attending community college, dual credit, or another topic.

Business or Other Organization
We can present information on community college and all that Lone Star has to offer at your next event or meeting with your business or organization. In the past, we have presented at local businesses, non-profit organizations, and other community events. For more information, contact Beau Williams at Michael.D.Williams@lonestar.edu.
Virtual Tours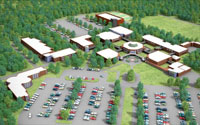 If you are unable to tour with us in person, we have an alternative for you! Check out our campus wherever you are with our virtual tour. Here, you can view a map of our campus and see videos of the services offered in each. Tour virtually and picture yourself here! Read More »