Language Lab: FAQs
These are some of the most frequently asked questions that we encounter. Click one of the questions below to jump to its answer.
Who is The Language Lab for?
The Language Lab is not just for students enrolled in language courses. All students, faculty, staff and community members are welcome to visit us, no matter their background or level of expertise.

How much does it cost?
There are no fees. The lab is free.

Where are you located?
We are located in the General Academic Center (between the Library and the University Center), room G104. From the main entrance (nearest the University Center), we are the second room on the right, just past the cafe.

What are your hours?
Our current hours of operation are posted on the right sidebar throughout the LSC-Montgomery Language Lab website.

Do I need an appointment for the Language Lab?
Appointments are not required. Sometimes we are at full capacity (26 computers) during our peak hours; however, you are free to wait outside in the lobby area until a computer becomes available.

Do I need an appointment for Tutoring?
Appointments are strongly recommended. Sometimes, we get booked up with back-to-back appointments. Making an appointment is the only way to be sure you'll get the help you need when you need it.

What if I am late for an appointment with a tutor?
Your scheduled tutor will wait for five minutes before considering you a no-show. If another student is waiting, then the tutor will begin working with him or her, and you will need to schedule another appointment.
Be careful not to miss too many appointments! If this becomes a problem, you will not be able to schedule any more appointments with us for the remainder of the semester. You are always welcome to drop in, but there may be a wait time, so you definitely don't want to lose your appointment privileges.

Do I have to sign in?
Whenever you take advantage of our services, we'd like to get some credit for it, so please sign in on the computer near the door.

Do I have to sign out?
Yes. Otherwise, it will look as though you were here all day. Also, please remember to give the person who helped you some credit by selecting his or her name from the list.

How long does it take?
A typical help session lasts 1 hour.

What should I bring?
If you plan to get help on a particular assignment or writing project, be sure to bring any pertinent information that you have: its description, instructions, grading rubric, etc. If you have already started writing the paper, be ready with a printed copy of what you have so far.

Can I just work on a computer?
Our space is limited, so the computers are reserved for language learning use only (preferably language learning software).
Contact, Location & Hours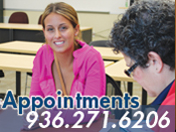 Walk-ins are welcome on a
first-come, first-served basis
Location
G-104, Language Lab
G-105, Tutoring & Conversation Groups