Conversation Groups
The Language Lab offers students, employees, and community members an opportunity to develop their foreign language speaking proficiency by joining LSC-Montgomery's conversation groups. These conversation groups are facilitated by faculty across the curriculum and by the Lab's language tutors. The conversation groups offer an incentive to practice the target language in an authentic setting. The languages offered are English (English for Speakers of Other Languages), French, Spanish, and Italian. The conversation is spontaneous, unscripted, and thus natural. No appointment is necessary.
Student Course Credit
At the end of the semester, your instructor will receive confirmation of your participation in the conversation groups. Check with him or her to see whether this is a required activity, a voluntary one, or one that will earn you extra credit. Regardless of the way that this participation is counted, you can rest assured that it will be beneficial to your speaking proficiency. Instructors enjoy leading these groups, and students find them to be not only instructive but also a lot of fun. Join them!
2018 Spring Schedule
Conversation groups are available in the spring and fall semesters.
English for Speakers of Other Languages (ESOL)
| Day | Time |
| --- | --- |
| Monday & Wednesday | 8 a.m.-6 p.m. |
| Tuesday & Thursday | 8 a.m.-5 p.m. |
| Friday | 8 a.m.-1 p.m. |
| Saturday | 11 a.m.-2 p.m. |
| Sunday | Closed |
Contact, Location & Hours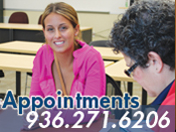 Walk-ins are welcome on a
first-come, first-served basis
Location
G-104, Language Lab
G-105, Tutoring & Conversation Groups