2010 Chancellor's Breakfast
Lone Star College Foundation recognizes student essay winners
HOUSTON (Feb. 2, 2010) – More than 200 guests, friends and donors were on hand Jan. 28 at the 17th annual Lone Star College Foundation's Chancellor's Breakfast, where five Lone Star College System students described "How My Community College Experience Changed My Life."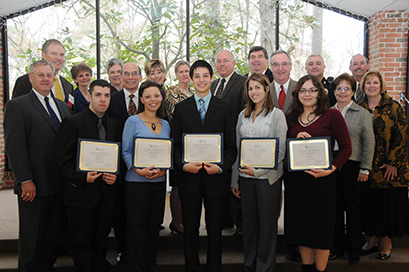 The students, one from each of the five Lone Star Colleges, received a $1,000 scholarship from the LSC Foundation. They shared their personal essays with the breakfast attendees who were on hand at Shirley Acres in north Houston.
Some of the students wrote about overcoming major obstacles in order to attend community college. Some wrote about a life-changing decision that helped them return to school after many years. And others wrote about a transformation – transforming from a shy, insecure teen-ager who doesn't know what to do with his or her life, to an accomplished college student who has his sights on a specific life goal. All of the stories were heartwarming.
"If this is your first time to attend, I can almost guarantee that you'll be here next year," said Dr. Richard Carpenter, LSCS chancellor, as part of his welcoming remarks to the invited guests.
The five essay winners were:
Christina Mevs, LSC-CyFair
Sonia Parga, LSC-Kingwood
Lori Mendel, LSC-Montgomery
Richard Tovar, LSC-North Harris
Gabriel Culver, LSC-Tomball
Gil Staley, vice chair of the LSC Foundation board, said this event and the opportunity to hear from the essay winners reinforces each year why he volunteers his time with the Foundation."It's so rewarding to hear these stories from these students, the sacrifices and the appreciation that they have for attending Lone Star College," Staley said.
"Each and every one has a very unique story," he said. "We hear from a very diverse group of students each year, which is wonderful. It shows the true diversity of our student population but it also demonstrates that LSCS serves an important role in providing education to all age groups, all ethnicities and all economic backgrounds.
"It's just a vital role of a community college," Staley said. He explained that the opportunity for the community to hear these stories is always worthwhile. "It's just such a wonderful, wonderful event," he said.
Darcy Mingoia, executive director of the LSC-Foundation, said the annual Chancellor's Breakfast is the highlight of the year for the LSC-Foundation.
"It is an inspirational experience for our donors and supporters to hear, directly from students, how our college system changes their lives," she explained. We can all talk in generalities about the difference an education can make but to have a scholarship recipient discuss in concrete terms the effect is impactful and engaging."
Christina Mevs, LSC-CyFair
"Lone Star College-CyFair has saved my life, and changed it for the better. The absolute compassion of this community college and its entire staff has encouraged an insecure teenager who didn't know her place in this world to believe in herself again. Lone Star College-CyFair has intelligent and caring professors, challenging and relevant course selections, and a staff who truly cares about their students success. I know all of these factors contributed to my substantial growth and continued academic success at my community college." Read complete essay.

Sonia Parga, LSC-Kingwood
"The things I have learned in my short time here have strengthened me and renewed my confidence as a creative person. As an artist, my instruction here at LSC has been priceless, as the teachers in the Art Department are all quite extraordinary artists themselves. I have been so lucky to have really smart teachers who have kept their doors, and their minds, open to my free spirited ways." Read complete essay.
Lori Mendel, LSC-Montgomery
"It all began with a long, scrutinizing look in the mirror. My life seemed to lack direction and was devoid of any real purpose. Unfortunately, I had lost a part of my identity when I left my job. I came to the decision that it was time to return to the workforce. My next step was to enroll in the Office Accounting program at Lone Star College. I didn't realize how much this endeavor would change my life." Read complete essay.
Richard Tovar, LSC-North Harris
"For most students, entering college is a terrifying and an overwhelming experience. It's a case of when the fear of the unknown is the greatest fear of all.This transition from high school to college is the most significant in our lives. Sadly, some college students believe that college is only about finding a job. I admit, I was one of those students. But my college experience has helped me realize that college is about finding yourself; who you are as a person and the type of person you want to be." Read complete essay.
Gabriel Culver, LSC-Tomball
"Without question, as I one day think back over my educational experiences, I will consider attending Lone Star College one of my best decisions. The community college experience has helped me grow and mature, both personally and scholastically. It enabled me to learn how to become a successful college student, and I developed relationships that will positively affect me for the rest of my life." Read complete essay.