Conversation Groups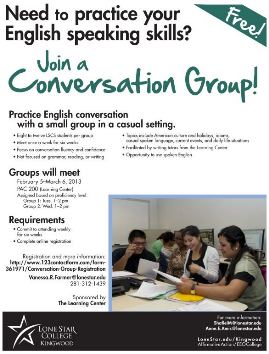 Conversation Groups are groups of about 8 - 12 learners who meet on a weekly basis and practice their English speaking skills. The groups provide the perfect opportunity for learners to improve their speaking confidence and meet other people who are learning English.
For more information about the class and eligibility, see the FAQ section below.
FAQ
What are Conversation Groups?
8 - 12 learners
meet on a weekly basis
practice English speaking skills
Why would I want to join a Conversation Group?
to improve your speaking confidence
meet other people who are learning English
What topics are discussed in Conversation Groups?
American culture
holidays
idioms
casual spoken English
and daily life situations (the bank, the post office, speaking with neighbors, etc.)
Will I be graded for this? Will my teacher be there? Is this a class?
No
Conversation Groups are not English classes.
They are not taught by English teachers.
The focus of these groups is conversation.
You will not learn grammar in our Conversation Groups.
You will not spend long amounts of time reading articles or writing essays.
Who leads the Conversation Group?
LSC-Kingwood staff who would like to help non-native English speakers improve their conversational skills
Who can participate?
Any LSCS student who is learning to speak English more fluently.
What are the requirements?
You must commit to attending your Conversation Group weekly.
If you are taking an ESOL class, ask your instructor if he/she offers extra credit or participation points for being in a Conversation Group.
Where and when do they take place?
All of our conversation groups are located in the tutoring center (PAC 200). They will begin during the week of TBD and end during the week of TBD. The current schedule is as follows:
Group 1: Tuesdays, 1 - 2pm
Group 2: Wednesdays, 1 - 2pm
More groups may be added depending on the popularity of the program.
Can I attend more than one Conversation Group?
Maybe. It depends on the groups you'd like to attend. When you register, please choose one preferred group.