Student Government Association

Do you wish you could change or improve the college in some form or fashion? Then apply for your Student Government Association and you can become a part of the driving force shaping LSC-University Park!
The Student Government Association serves as the voice for the students at LSC-University Park.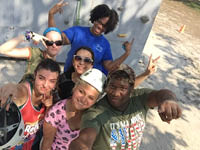 It has a five-person Executive Board: President, Vice-President, Secretary, Treasurer and Student Activities Board President. The SGA Executive Board is elected every fall semester by the student population for a one-year term. The board members oversee three committees: Ethics, Volunteer and Lion Pride. Any student can submit an application to join a committee.
SGA has influenced positive changes, such as bringing the Minuti coffee shop to campus and establishing electronics charging stations and express printing stations. 
Meet the Executive Council 
The SGA Executive Council is available Monday-Thursday during office hours to help students with any questions or concerns. The hours are posted outside the Student Life office. SGA wants to hear all students' ideas to innovate LSC-University Park. Please don't hesitate to tell us your opinions or ideas. Remember that all your ideas will help current and future students have a better experience.
Campus Involvement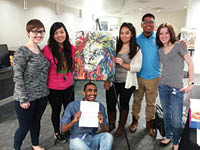 SGA provides programming and opportunities that encourage students' voices to be heard.
These programs include trips, an art contest, service learning projects and General Assembly meetings. SGA members also work closely with Student Life in participating in their school events. 
Committees:
Ethics Committee
Convened when a Registered Student Organization is in violation of the LSC Student Handbook or RSO Handbook.
Responsibilities and Duties
Review and investigate possible violations of the RSOs' constitutions, codes of ethics, rules and agreements set by Lone Star College (LSC), Student Government Association (SGA) and Registered Student Organizations (RSOs) as brought to the committee by the office of Student Life.
Meet with members of Student Life to check on compliance with rules and policies set forth by LSC, SGA and other organizations
Meet once a month to discuss and reflect on any inactions and/or how to improve the methods in the future.
Volunteer Committee
A cohort of dedicated students who pool their community resources to help their peers find volunteer opportunities that they would fit perfectly in. Committee members serve as liaisons between the student body and volunteer outreach programs.
Responsibilities and Duties
Contact students when volunteer opportunities present themselves.
Keep a close relationship with various volunteer outreach programs.
When applicable, provide information to the general student body about volunteer resources. 
Coordinate volunteer opportunities (ex: Heart Walk).
Meet once a month to discuss upcoming volunteer opportunities and new contacts.
Lion Pride Committee
Composed of energetic and motivated students who are responsible for working with the RSOs to promote college pride and spirit in various activities and motivate students to get involved.
Responsibilities and Duties
Create college loyalty, build community and foster teamwork. 
Help promote college events and activities.
Support and raise awareness of athletic events at LSC-University Park and elsewhere.
Meet once a month to discuss upcoming pride and spirit activities.
Events
SGA hosts General Assemblies every month to give college and organization updates and discuss concerns. The SGA General Assembly meetings are held every third Tuesday at 4:30 p.m. in Building 12 behind Minuti Café and are open to all students.
Request Box
Please feel free to submit your questions and concerns regarding how to improve your college experience!