LSC-University Park Graduation
Graduation Date and Location
Friday, May 9, 2014
7:00 p.m.
Lone Star College-University Park
West Dining
20515 SH 249 (At Louetta Road)
Houston, TX 77070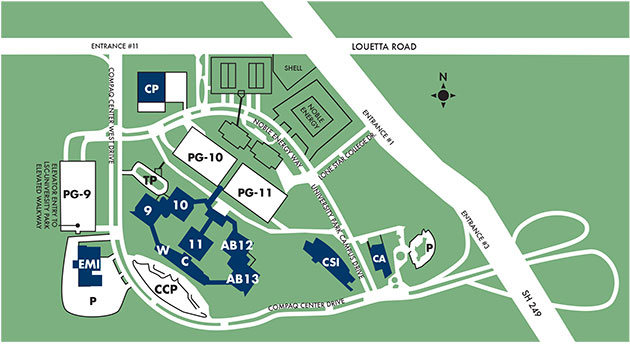 C - Conference Center (First Floor), Commons (Second Floor)
W - West Dining
11: Administration Building
12: LSC-University Center
13: LSC Academic Building
9: Tenant Building
10: Tenant Building
EMI: Future Energy & Manufacturing Institute
VC: Visitor Center
PG-9: Parking Garage 9 (Tenants)
PG-10: Parking Garage 10 (Faculty & Staff)
PG-11: Parking Garage 11 (Students)
CCP: Reserved Conference Center Parking

Graduation Orientation
LSC-University Park will have orientation (rehearsal) on Tuesday, April 22nd from 10:00 AM until 12:00 PM and Monday, April 28th from 4:00pm until 6:00 pm in the Governor's Room (CB229, directly across from the UP Bookstore) on the LSC-UP campus. Commencement activities, procedures and/or any questions will be answered at this time. All students planning to participate in the Commencement ceremony will be expected to attend one of the orientations to ensure that this important milestone in your life is recognized and celebrated appropriately. Due to limited seating arrangements, we kindly request that only graduates attend the commencement orientation.
Graduation Ceremony Protocol
Caps and Gowns: Caps and gowns will be available beginning on Monday, April 21st at the UP Bookstore. The cost will be $37.00 plus tax. Generic invitations/announcements in packages of 10 will also be available for purchase at the bookstore for $11.95 plus tax. The bookstore will also be selling caps and gowns during and after the graduation orientations.
RSVP: Please RSVP by email to UPGraduation@Lonestar.edu by 5:00 PM on Monday ,April 21st. Please include in the email the name you would like announced during the ceremony, approximate number of guests in attendance, and if any special accommodations will be needed for the graduate or any guests.
Dress: Participants and guests should dress comfortably and coolly. Men are encouraged to wear dark slacks, light colored shirts and dark shoes. Women are encouraged to wear cool, appropriate length dresses and low heel, dark shoes. Do not wear flip flops or backless shoes.
Arrival: Graduates must arrive in Building 13, 1st floor no later than 5:30 PM on May 9th to ensure participation in the ceremony. There will be signs and Student Ambassadors directing you to this area. Once graduates arrive on the first floor of Building 13, they will complete a name card with the name they would like announced at the ceremony. Graduates will be lined up for the processional by 6:30PM.
Diplomas: All commencement participants will receive a commemorative diploma cover during the ceremony. Graduates will receive their diploma through mail to the address specified on the graduation application after successful completion of degree requirements is confirmed. Diplomas are printed by our System Office and typically take 6-8 weeks for arrival after a student has been graduated. Participation in the ceremony does not guarantee graduation from Lone Star College. Graduates must meet all requirements and competencies before degrees will be issued. It is the student's responsibility to make sure that all requirements are met, and that a graduation application has been submitted. Students will be contacted by the graduation department after the application has been submitted if there any problems with their application.
Seating: At the ceremony, there will be special assigned seating for graduates. Family and friends will be seated on a first come, first served basis. Reserved seating will not be permitted. Due to limited seating, East Commons will be used as an overflow room with live streaming of the ceremony.
Flash Photography will take a photograph as you are recognized on stage. Further information will be given during the graduation orientation. Flash Photography may be reached at 1-888-325-3930 and on their website at www.flashphotography.com
Please turn off all cell phones during the ceremony and keep talking and movement during the ceremony to a minimum.
Remember to have fun as you take this very important step towards personal and professional enrichment.
Graduation Ceremony Regalia
Lone Star College System graduates are expected to wear regalia without altering the appearance. Academic regalia has a rich history of tradition and significance we wish to honor. Please refrain from wearing flowers (corsages), pins, or unapproved stoles, or making any alterations to mortarboards. Graduates who have earned stoles through Phi Theta Kappa will wear the college approved stoles. All others are asked to respect the time-honored traditions of graduation by wearing regalia as issued or appropriate military attire. In addition, the appropriate way to wear the mortarboard is flat on top of the head and not off to the side or fixed to the back of the head by pins. Graduates are not allowed to deface their regalia. Any graduate that has decorated, bedazzled, or costumed their regalia will be removed from procession and not allowed to participate in the ceremony.
Graduation Reception
A reception for graduates and their families will be held immediately following the Commencement Ceremony in West Commons (next to West Dining). Light refreshments will be served.
We look forward to your participation in the Lone Star College—University Park Commencement ceremony and congratulate you on your academic achievement!