|
LSC-University Park Faculty Library Services
The UP reference librarians are available to teach your students where to find resources for their assignments, proper citation styles, information & source evaluation, avoiding plagiarism, and much more. We can also create research guides tailored to your specific assignments to guide your students to appropriate academic sources.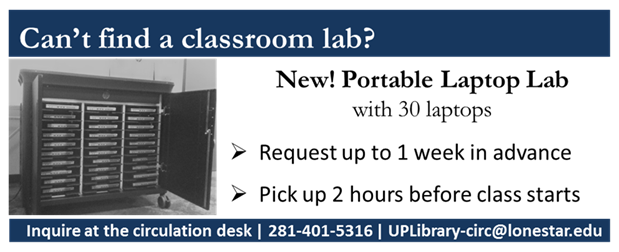 Integrating the Library Into Your Classes
Schedule a library instruction session: Bring your class to the library or have a librarian come to your class for all or part of the class period for everything from a basic orientation tour to research instruction. The instruction lab can also be reserved to allow your students in-class research time, but priority is given to those classes needing instruction. Note: instruction lab contains 24 computers. Larger classes will need to be reserved through R25 in another computer classroom.
Have a librarian embedded in your online class (ANGEL): Go to the VTAC course in ANGEL and fill out the Add Instructor to Course form. Request must come from primary instructor of the course.


D2L: process is currently being established.

Add a library widget to your ANGEL classroom

D2L: process is currently being established.
Reserves
Available Resources: Materials on reserve available to faculty

New! Portable laptop lab for checkout to faculty with valid Lone Star ID. Includes 30 laptops. Can be requested up to 1 week in advance of the needed time; faculty should be prepared to pick up the lab up to 2 hours in advance and return it immediately after the class concludes. To request: come to the circulation desk in the library, call 281.401.5316, or email UPLibrary-circ@lonestar.edu.

Faculty can place personally-owned copies of books or other materials on reserve in the library to make them available to students. To put items on reserve, bring them to the library along with a filled out form.
Extra Credit Opportunities for Students
The Student Learning Resource Center provides a number of helpful and interesting services and events. Consider encouraging your studentsí attendance by offering extra credit or require their attendance to any of the following throughout the semester:
Tutoring Center
Writing Lab
Grammar Crammer
Galaxy 21