Receiving Free PLA Credits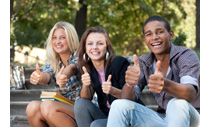 When you come in to take the placement test, you will fill out an application to receive Prior Learning Assessment (PLA) credits for all of the classes below the class into which you place. This PLA form is available in the testing center or in student services.
Below is a chart showing the PLA credits you will receive depending on where you place.
If you
place into...
You will receive ... credits for the class
Plus ... PLA credits
For a
total of...
1411
4
0
4 credits
1412
4
4 for 1411
8 credits
2311
3
8 for 1411 and 1412
11 credits
2313
3
8 for 1411 and 1412
11 credits
2312
3
11 for 1411, 1412, and 2311
14 credits
2315
3
11 for 1411, 1412, and 2313
14 credits
Remember, you do not get these PLA credits by taking the placement exam. You must also take the class into which you placed. Once you pass the class with a C or better, you receive PLA credits. You do not receive a grade for the PLA credits, only a grade for the class. However all credits are transferrable.
The Testing Center will turn in your PLA form to the Division office for processing once they have your official test score. However, it is advised that you check with advising at the end of the semester, once you pass the class, to make sure your PLA credits are processed.
Although the PLA credits are "free", you will still have to pay for the placement exam, the class itself and any materials required for the class.