American Society for Quality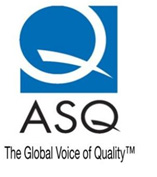 American Society for Quality is a global community of professionals from a variety of industries that passionate about quality for, who use the tools, their ideas and expertise to make our world work better.  As a global quality community, ASQ advances the professional development, credentials, knowledge and information services, membership community, and advocacy on behalf of millions of individual and organizational members in 140 countries.
Scholarship Opportunity
Lone Star College-CyFair offers an ASQ Scholarship for qualifying students. Click here before the April 1 deadline for more information and to submit an application.
Student Branch for ASQ
The purpose of the Student Branch is to provide an opportunity in learning and developing high professional skills. Network with professionals in Manufacturing, Healthcare, Business, Service or Education. Joining ASQ will launch your professional success while learning from the best. There are many benefits from becoming an ASQ student member:
Monthly professional development meeting - Receive tutorials from the professionals in the industry of interest and learn job opportunities form various industries.
Weekly Newsletter - Get access to up to date access to the latest quality practices.
Member Discounts - Get the certification many companies require at a discount price.
Access to online communities and local communities.
As a student, getting your foot in the door may be a struggle. Join the ASQ student branch to start networking and learning from the professionals in the industry you wish to join. The ASQ believes in helping students succeed in the professional world.
Joining ASQ
ASQ Student Branch has a yearly fee of $28. Student Branch is offered into the ASQ Community at a discounted price.
Please log into ASQ/STUDENT. After selecting student registration, you may use your Lone Star College student e-mail as your log in. Complete the registration form and save your ASQ member number.
Join Student Branch by contacting Bo Cui by phone at 832.920.5064; by e-mail at Bo.Cui@LoneStar.edu; or by just showing up to the next meeting listed on the calendar below.
ASQ Events
Please check out the calendar for upcoming events. To register for an event visit the ASQ website at: http://www.asqhouston.org/en/calendarevents