Bermudez, a former Lone Star College student and adjunct instructor re-examines the portrait using hard edge and a range of colors. This exhibi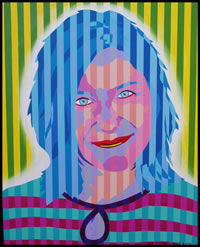 t will be on display June 15 through July 8 with an opening reception June 23 from 12-2 p.m.
Mr. Bermudez has been working on paintings of the human face and figure in basically three distinctive themes. The first theme is family members, the second theme is well known characters in world history, politics, literature, religion, and music, and the third theme is what he calls Neo-Catholic Imagery. He works with acrylics on canvas using a hard edge approach were he does not blend any colors. His process is very similar to the process that Roy Lichtenstein used, however the end result is very different. One striking characteristic of his paintings is the use of vibrant colors which he believes comes from growing up in Maracaibo, Venezuela and being exposed to the colors of the city, to Venezuelan folk art, to the work of the Guajiro Indians and there tapestries, as well as the work of Venezuelan contemporary masters like Carlos Cruz Diez and the late Jesus Soto. Viewers have found his paintings to be dynamic, vibrant, and funny, surrealistic at times, and with a Pop-Art quality to them at others, all of which are readings that he wants the work to have.