Phi Theta Kappa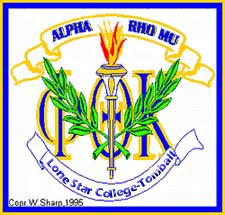 PTK is a National Honor Society for two-year college students. Members are invited based on academic standing and grade-point average. Phi Theta Kappa's mission is two-fold: 1) recognize and encourage the academic achievement of two-year college students and 2) provide opportunities for individual growth and development through participation in honors, leadership, service and fellowship programming.
Sponsor: Bo Rollins
Phone: (281) 357-3796
Office: S-257-M
E-mail: john.b.rollins@lonestar.edu
Chapter E-mail: alpharhomuinfo@gmail.com
Phi Theta Kappa Website: http://www.phithetakappa.org
PTK Officers
Chapter President
Ingrid Hanna
VP of Chapter Operations
Enrique Treminio
VP of Scholarship
Tumi Oni
VP of Service
Stephanie Braly
VP of Leadership
Rafael Moreira
Student Government Association Representative
Sue Keith
"The purpose of Phi Theta Kappa shall be to recognize and encourage scholarship among two-year college students. To achieve this purpose, Phi Theta Kappa shall provide opportunity for the development of leadership and service, for an intellectual climate for exchange of ideas and ideals, for lively fellowship for scholars, and for stimulation of interest in continuing academic excellence."
Black, White & Brown: The Distribution of Political Power in TexasGive us your opinion about the distribution of political power in Texas by taking our survey.