LSC-Montgomery Sports
|
Officials
|
LSC-Montgomery Sports
|
LSC-Montgomery Men's Basketball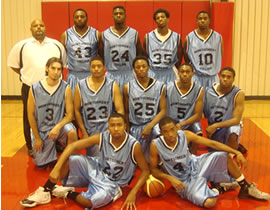 Men's Club Basketball
Coached by Ra'Kim Hollis
Lone Star College–Montgomery offers men's club basketball and women's basketball during the spring and fall semesters. Games will be played against other college and university club teams. Students with more advanced skills may participate on club teams, provided they are registered for at least six credit hours with a minimum overall GPA of 2.0. To register online, use the registration form, and complete all required information.
Intramural Co-ed Basketball
Practices on Mondays from 5-6:30 p.m.
The Tennis Courts
For more information, contact Tabitha Yargo at 936.271.6124 or lscmsports@LoneStar.edu.