LSC-North Harris Student Center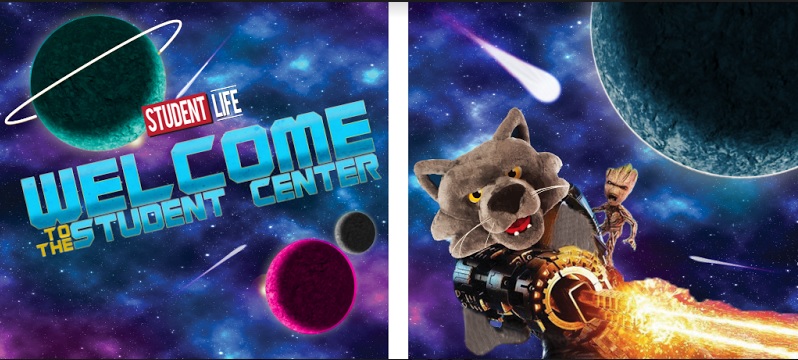 Located on the 2nd floor above the cafeteria, the Student Center is a social hub for students at
Lone Star College-North Harris. The facility features a TV lounge, comfortable seating, tables for eating/studying, billiards, ping pong tables, air hockey, foosball, student organization offices & student meeting rooms. Students can check out board games from the front desk of the Student Center. Students must present a Lone Star College Student ID to enter the facility.
Normal Hours of Operation:
Monday-Thursday 8 a.m. - 6 p.m.
Friday 8 a.m.-2 p.m.
Saturday-Sunday CLOSED
Summer Hours of Operation:
Monday-Thursday 9 a.m. - 4 p.m.
Friday-Sunday CLOSED
May & Winter Mini-Mester:
CLOSED

STUDENT CENTER DIRECTORY
| | |
| --- | --- |
| SC 200 | Student Center, 281.765.7982 |
| SC 202 | Gillian Marasigan, PT Coordinator, Student Life-Centers, 281.618.1189 |
| SC 202A | Dan Mitsven, Program Manager, Student Life, 281.618.5625 |
| SC 202C | Sharun P. Cooper, Specialist III, Student Life, 281.618.5411 |
| SC 204 | TV Lounge |
| SC 206 | Meeting Room, 281.618.7122 |
| SC 207 | Meeting Room, 281.618.1192 |
| SC 208 | Honors/Phi Theta Kappa, 281.618.1193 |
| SC 209 | Ambassadors/Student Government Association, 281.618.1178 |
| SC 209A | Ilse Favela, PT Assistant II, Publicity/Web, 281.618.7112 |
| SC 210 | North Star News, 281.618.5578 |
| SC 211 | Student Organization Office & Storage |