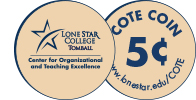 ATTEND, ATTEND, ATTEND…
As many Professional Development (PD) opportunities and collect COTE Coins to earn cool stuff!
The COTE Calendar is full of trainings, workshops, lectures, webinars, and special topics to fill your pockets with enough COTE Coins to cash in on an Amazon® Kindle Fire™ and other cool items by the end of the semester!
Don't delay! Browse the calendar and register for a PD session TODAY!
Lone Star College-Tomball employees can gain COTE Coins several different ways:
Attend PD sessions offered on campus
Attend campus conferences, seminars or workshops and bring your certificate of attendance to the COTE department.
Be a facilitator of a PD Session
Acquire Focus Recognition Cards (2 max per semester)
Then, redeem your COTE Coins for a prize in the COTE Coin Catalog!
For questions, please contact Kentrie LeDee.