Co-op Program
Cooperative Learning Program
College credit can be earned while at work through the Department's Cooperative Learning Program. Credit is awarded for actual on-the-job experience related to business career goals established by the student, work supervisor and instructional coordinator.
Coordinator: John Burns - Associate Professor, Management/Marketing
Office: E211D
Phone: 281.401.1842
Email: John.A.Burns@lonestar.edu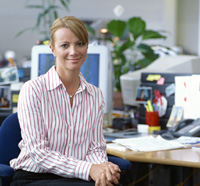 The cooperative work experience is a program that combines the training efforts of both the college and the workplace. This partnership allows the student the opportunity to develop an understanding of the relationship between school and work by working in a career-related field and coordinating that work with their college program.
It is an educational program, which recognizes that the workplace offers tremendous hands-on training and awards college credit for the knowledge, skills, and attitudes so gained.
The purpose of this program is to provide students with real-world work experience and career awareness in the occupation related to their college major, thus providing an effective mode of transition from school to work.
The cooperative work experience program developed for Lone Star College–Tomball students is designed to allow students to simultaneously work and attend college. This plan requires that the student coordinate and balance the cooperative work experience with remaining specific, technical and general education courses needed to complete certificate and/or degree
Co-op registration requires departmental approval.
Please contact the division office at 281.357.3730.