Speaker Biographies
Lorenzo Pablo Martínez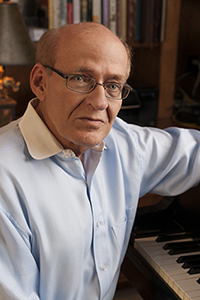 Hailing from Cuba, award-winning author Lorenzo Pablo Martínez holds a master's in piano performance from Manhattan School of Music and a doctorate in music education from Columbia University/Teachers College. Martínez has appeared in recitals on radio and television, and his musical compositions have been performed nationally and at international festivals. The television show Captain Kangaroo featured some of his works, and for Group Soup, a children's book published by Viking, he contributed the title song. In addition, a book of his children's songs, The Circus, was published by Clarus Music Ltd.
Martínez translated all twelve episodes of The Second Voyage of the Mimi, produced by Bank Street College of Education for PBS, and co-edited The Ginseng Conspiracy, a mystery novel published by Muse It Up. His recent memoir, Cuba, Adiós, explores his participation in Operación Pedro Pan, a secretive mass exodus of more than 14,000 children that landed in America between 1960 and 1962 fleeing Castro's regime. The book was named 2015 Best Biography by the International Latino Book Awards, and was recognized as "Outstanding Book" by the Houston-based group Conversing Through Poetry. Martínez was named among the 2017 top "new" Latino authors to watch by Latino Stories, a group that promotes Latino literature. He has written for The Miami Herald and authored a picture book, The Ballerina and The Peanut Butter Sandwich, available on Amazon.Over the years, Martínez has played important roles in the not-for-profit arena, overseeing development and communications/marketing departments for a number of international organizations. He has been a frequent lecturer at several New York institutions such as New York University, the New School, York College of the City University of New York, and the 92nd Street Y.
Martínez is working on a second memoir and a mystery novel for young adults. He is the former Executive Director of the Houston Chamber Choir.
Jonathan C. Brown
Professor, Ph.D., The University of Texas at Austin
Jonathan C. Brown has published four single-authored books: A Socioeconomic History of Argentina, 1776-1860 (1979); Oil and Revolution in Mexico (1993), Latin America: A Social History of the Colonial Period (2nd ed., 2005), and A Brief History of Argentina (2nd ed., 2009). Two of these books have been translated and published in Latin America. His first book on Argentina, published by Cambridge University Press, won the Bolton Prize. Brown also edited a collection of essays on workers and populism in Latin America and co-edited books on the Mexican oil industry and on Argentine social history. Professor Brown's most recent work, Cuba's Revolutionary World (Harvard University Press, 2017) analyzes how the Cuban Revolution changed inter-American relations in the 1960s by exporting both its revolution and its counterrevolution, vastly disrupting the status quo in the Western Hemisphere. The book discusses the 'secret war' between the Cuban revolutionaries and the CIA, the rise of guerrilla warfare throughout the Americas, the decline of democracy, and the wave of military counterrevolutions.
Ernesto Vega
(Holguin, Cuba 1981)

Clarinetist, saxophonist and composer, Ernesto Vega is a graduate of the Higher Institute of Art in Havana, Cuba. At the age of seventeen, Down Beat Magazine recognized his interpretative style on the clarinet recalling the legendary jazz clarinetist, Artie Shaw. In 2003, Vega won the first prize at the international jazz competition Jojazz in Havana. He performed with the Lincoln Center Jazz Orchestra and Wynton Marsalis on their visit to Cuba. Ernesto has collaborated with Cuban legends: Frank Emilio, Chucho Valdés, Bobby Carcasses, Ernan Lopez Nussa, Jorge Reyes, and Changuito among others. Ernesto has been a part of several projects involving Arturo O'Farrill & Afro Latin Jazz Orchestra, Joe Sample Orchestra, Havana Jazz Collective, Carlos Maza Quintet, Maria Del Mar Bonet, Yuri Buenaventura and Alejandro Vargas Quartet. Ernesto Vegas' first album "Venir al Mundo," won the Cubadisco Award as the Best Jazz Album of 2009. He has performed at numerous international festivals including Jazz in Marciac (France), North Sea Jazz Festival (Holland), Lausanne Jazz Festival, Jazz on the Green (Trinidad and Tobago) and Jazz Plaza Havana, Cuba. Ernesto Vega is considered one of the leading musicians of his generation and as well as one of the finest clarinetist from the Island of Cuba.
Rainel Piño
Born October, 1970 in Cabaiguan, Cuba
At an early age, Rainel Piño entered the Vocational School of Art in Santa Clara later progressing to the National School of Art where he graduated as a music teacher and musician/instrumentalist.

Piño taught at the Vocational School of Art in Santa Clara while colaborating with several musical projects, performing at concerts and events around the world. He traveled to Mexico in 1996 with the Caribbean Show where he worked as a director and musical producer. He emigrated to the United States where he further developed as a producer and composer, collaborating on many diverse musical projects. Piño has performed with accomplished musicians including Hubert Laws, Kirk Whalum, and Alex Acuña. He has also performed with great salsa exponents and super stars such as Gilberto Santa Rosa, Issac Delgado, Tito Puente Jr, Bobby Valentin, Tito Rojas, Rey Ruiz, India, Eddie Santiago, and many more.

One of his last works, "Soy Latino", the name of the CD Angelucho and his Copacabana has been awarded multiple national and international awards thus establishing him as an accomplished composer, producer, and arranger in demand.

Rainel Piño currently is based in the Houston area.
Quicklinks
Online Program
Detailed schedule, speaker and performer biographies.
View Now
Conference Registration
Deadline April 14, 2017:
Register Now
Call for Papers/Proposals
Deadline February 15, 2017
Closed for Submissions
Exhibitor's Table Request
Deadline April 14, 2017
Email form to IEC@lonestar.edu
Exhibitor Form
Call for Artists
Deadline March 31, 2017
Submit Artwork