HSI Title V Grant
Lone Star College has been named a Top 100 College for Hispanics by Hispanic Outlook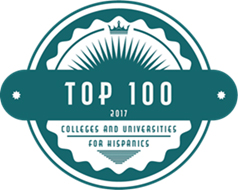 Lone Star College-Tomball a designated Hispanic Serving Institution (HSI), qualifies to compete and receive HSI grants from the U.S. Department of Education.
In 2016, Lone Star College-Tomball was awarded a 5 year, $2 million Title V HSI grant in order to expand educational opportunities for Hispanic and other underrepresented student populations. The Title V grants enable colleges to expand and enhance their academic offerings, program quality, and institutional stability.
Through the Title V Grant, Lone Star College-Tomball seeks to address three significant concerns:
First time in college students do not have the requisite skills to successfully persist to degree attainment.
There is a lack of opportunities for professional development for faculty and staff that increase awareness of the diverse needs of Hispanic and low income students and prepare faculty with teaching strategies that lead to student success.
Decreases in revenues combined with increasing need for services prohibit LSC-Tomball from making necessary changes to improve student success rates.
The Center for Leadership, Academic and Student Success (CLASS) will organize and implement all Title V grant initiatives at LSC-Tomball.
Funding Request Form
If you would like to request CLASS (Title V) funding, for an upcoming project please fill out the Funding Request Form. For Funding Request Form returns or questions about the process, please contact: Katherine Hernandez at katherine.hernandezgonzalez@lonestar.edu or 281.357.3632.