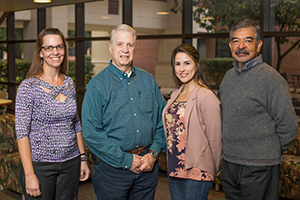 TOMBALL, Texas – Carlos Aguilar has always wanted to be a part of something bigger than himself. He has been able to do exactly that by touching the lives of students as a Visual Communications Professor at Lone Star College-Tomball.
Aguilar, along with three other professors, Christine Bradford, Cynthia Galvan, and Frank Willingham, have been selected for the Full-Time Faculty Excellence award.
"I was inspired to become a college professor based on my desire to have a greater impact on those who are pursuing higher education, training and have a desire to improve their own lives," Aguilar said. "It's an honor that my students and colleagues recognized my effort and commitment to my students, to my profession and my institution."
LSC-Tomball President Lee Ann Nutt said each recipient will be formally recognized at LSC-Tomball's annual awards ceremony later this spring.
"Their names will be submitted for the National Institute for Staff and Organizational Development (NISOD) Excellence Award, and they will be eligible for nomination as a Minnie Stevens Piper Award next year," Nutt revealed. "LSC-Tomball will also pay their travel to the NISOD International Conference on Teaching held May 26 – 29 in Austin where all awardees will be recognized. I'm so happy for each of them."
Bradford, associate professor of Geology, said receiving the Faculty Excellence Award is both humbling and gratifying.
"It's humbling because I do not necessarily feel that what I do is anything particularly special," Bradford said, before adding, "I do what I think is needed to do my job properly. It's gratifying because I do work hard to make a difference for my students and it is always nice for hard work to be noticed."
Holding a Bachelor of Arts from Franklin and Marshall College in Lancaster, Pennsylvania, and a Master of Science from the University of North Carolina at Chapel Hill, Bradford noted that a major goal that she has for herself is to develop a field experience class.
"Students learn best when they are actively engaged in science," Bradford stressed. "One of the most important environments on our planet is the coral reef. Reefs around the world are in peril thanks to climate change. The best way to get students to care about these reefs is for them to experience a reef up close. I am currently working toward developing a class that will travel to the Florida Keys to look at both modern and ancient reefs to learn about how reefs react to climate change over time. I hope that I will have the class running by May 2020."
Galvan, a biology professor and lead faculty of natural sciences, said she is thankful for the award, but went on to point out that what matters to her most is that students walk away having learned something they did not know before entering her classroom.
"I am always grateful to hear that they actually enjoyed learning and found the information interesting at the same time," Galvan noted. "I'm thankful that my college and colleagues find my contributions worthy and notable."
Holding a Bachelor's of Science in Biology from the University of Texas at San Antonio and a Doctor of Philosophy in Neuroscience from Baylor College of Medicine, she said a key to her success is that she has learned over the years to keep trying new things and broadening her knowledge base.
"A mixture of passion for what I study and an expansion of what I know about it has consistently helped me get to the goals I set for myself," Galvan said.
As for the future, she said she plans to "incorporate new ideas of instruction somewhere into each of my classes, spend as much time with my family as possible, and stay physically active in the process."
Lone Star College-Tomball is located at 30555 Tomball Parkway, at the intersection of SH 249 and Zion Road. For more information about the college, call 281.351.3300 or visit LoneStar.edu/Tomball.
[Digital Photo Included. Cutline – LSC-Tomball's 2018 Faculty Excellence Award winners are (from left) Christine Bradford, Frank Willingham, Dr. Cynthia Galvan, and Carlos Aguilar]
-30-
Known for its leadership, innovation and steadfast commitment to student success, Lone Star College provides high-quality academic transfer and workforce education/career training programs to more than 83,000 credit students each semester, and a total enrollment of 95,000 students. LSC is training tomorrow's workforce today and redefining the community college experience to promote student success and economic prosperity. Stephen C. Head, Ph.D., is the chancellor of LSC, the largest institution of higher education in the Houston area, which consists of six colleges, eight centers, two university centers, Lone Star Corporate College and LSC-Online. To learn more visit LoneStar.edu.