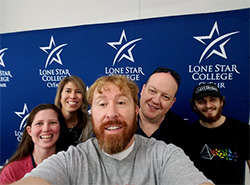 Cypress, Texas (April 30, 2018) This semester's inaugural Twin Star Conference not only drew international presenters, but showcased the high caliber of research done at Lone Star College-CyFair, which led to a faculty book deal and life-changing opportunities for students.
This spring, LSC-CyFair co-hosted this two-day philosophy and humanities conference on global values with Lamar University.
"I wanted students to excel and conduct their own meaningful research which could in turn become graduate research projects," said LSC-CyFair Philosophy Professor Grady Watts. "I also wanted them to attend a professional conference and look at the professors to say 'one day that could be me' - that was the underlying thought."
Watts was excited to share that two LSC-CyFair students, Konrad Flick and Paulina Fernandez, who presented "The Implication of Morality: Virtue in American Sitcoms" and "Applied Environmental Ethics," respectively, both said they have decided to become professors.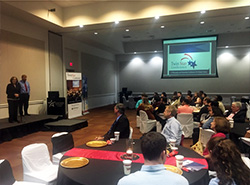 "What this conference also did for us was to show how amazing our students are; that they are not just getting degrees, but are engaging in serious research," said Watts. "One of the overall goals of conference was to build good relationships among faculty from universities and those on admissions committees; for them to know our faculty and students when a recommendation letter and application crosses their desk."
One LSC-CyFair student, Aimee Campos, who presented "Public Opinion in the 21st Century: The Crisis of a Crumbling Public Sphere," didn't have to wait as she caught the attention of University of Houston Professors Dr. David Phillips, department chair, and Tamler Sommers, the conference's keynote speaker. Sommers, who holds a joint appointment with the Honors College, offered a Teaching Assistant positon in the philosophy department to Campos, LSC-CyFair's Philosophy Club president, who has also applied at several Ivy League universities.
Conference abstract submissions were accepted through a blind selection process for faculty and students. Students and faculty from LSC-CyFair, Lamar University, University of Houston and Houston Baptist University presented, while Texas faculty as well as international faculty from Argentina, China, India and Japan, submitted proposals for the conference. Faculty from India and Argentina presented at the conference this year..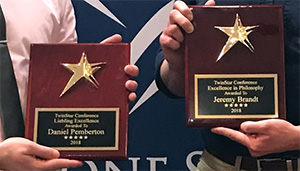 The conference gave faculty a chance for inspired interaction, recognition and peer review of their research as well as possible inclusion in a conference book that Vernon Press will publish next year. Watts, along with Lamar University professor and Honors College Dean Dr. Kevin Dodson, will edit the book that integrates the work of LSC-CyFair professors, which include Mark Thorsby, Cambria Stamper, Michael Troncale, John Barr, Angela Bell and David Bruner. The book will also include research work of Dr. Phillips and Dr.Cynthia Freeland, University of Houston Honors Professor.
Concluding the conference, a reception was held and awards given including a special Liebling Award of Excellence in honor of LSC-CyFair students and scholarship donors Scott and Marian Liebling.
With the successful outcomes and more than 100 attendees at the presentations, Watts said plans will soon be under way for next year's collaborative conference. For information, email Grady.A.Watts@LoneStar.edu or got to TwinStarconference.com.
For information on registration for summer and fall classes at LSC-CyFair go to LoneStar.edu/Cyfair.