Master Classes
Master classes offer music students an opportunity to work with some of the region's most celebrated performers and teachers. Patrons are able to observe these professional clinicians as they coach music students, giving community musicians and teachers opportunities to refine their craft and network with these local master artists.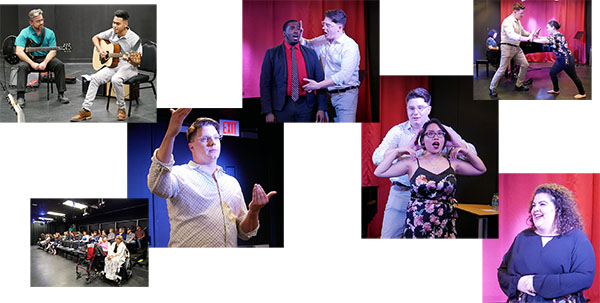 Upcoming Master Classes
All listed master classes are tentative.
Percussion Master Class with JAMES METCALFE
Wednesday, March 20, 2019, 12:30 - 2:30 p.m.
Black Box Theatre, B12.135
James Metcalfe is active as an educator, recording musician, tracking/mix engineer, and producer. He studied at West Texas State University and University of Iowa and has taught in public schools as well as with the Rice University Marching Owl Band and San Jacinto College. He has performed with and engineered/produced recordings for numerous celebrated artists and has been involved with several world premiere events including Jekyll & Hyde, Svengali, American Vaudeville, Monkey Business, Salsipuedes and In the Shadows of the Forest.
Vocal Master Class with JACK BEETLE
Wednesday, March 20, 2019, 5 - 8 p.m.
Black Box Theatre, B12.135
Jack Beetle's career has included Shakespeare, musical theatre (including a seven-month tour in Forever Plaid), opera, and contemporary concert music. He has music directed numerous productions for Theatre Under the Stars, the Alley Theatre, the Houston Ballet, Stages Repertory Theatre, and elsewhere. He is on faculty for Rice University's Department of Visual and Dramatic Art and guest faculty for the UH School of Theatre and Dance and maintains a large private voice studio.
Jazz Master Class with THOMAS HELTON
Wednesday, April 3, 2019, 5 - 7 p.m.
Black Box Theatre, B12.135
Thomas Helton is a Houston-area bassist and composer. He is a skilled improviser and interpreter of contemporary bass repertoire who continues to push and redefine the possibilities of his instrument through extended performance techniques and new compositional forms. As a composer, he has written solo, chamber, and large ensemble music, including several pieces for choreographer Michele Brangwen and the experimental dance company Group Acorde.

Past Master Classes
Acting for Singers Master Class with JUSTIN DORAN
Oct. 29, 2018
Vocal Master Class with WESTON HURT
November 12, 2018
Vocal Master Class with JACK BEETLE
April 18, 2018
Guitar Master Class with STEPHAN BADREAU
April 16, 2018