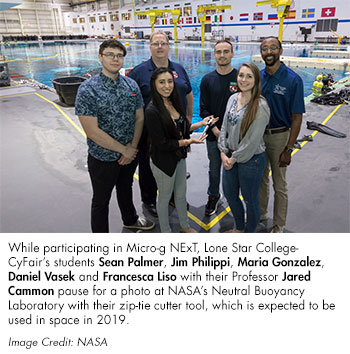 Lone Star College-CyFair's engineering students are making history with their award-winning zip-tie cutter tool that will soon be in use by NASA astronauts at the International Space Station.
The LSC-CyFair team - Maria Gonzalez, Francesca Liso, Sean Palmer, Jim Philippi and Daniel Vasek - was honored to be the only community college in the nation participating in NASA's Microgravity Neutral Buoyancy Experiment Design Teams (Micro-g NExT) Challenge.
"The work our students have done this year has surpassed all expectations," said Professor of Engineering Technology Jared Cammon, who co-advised the student team for this spring's Texas Space Grant Consortium's (TSGC) Annual Design Challenge with Professor of Engineering Dr. Yiheng Wang.
In May, their tool's simplicity, versatility and ease of use during the Micro-g NExT's underwater testing at the Neutral Buoyancy Laboratory (NBL) was so impressive that NASA invited the team to continue developing their tool for further testing at NASA's Active Response Gravity Offload System (ARGOS.)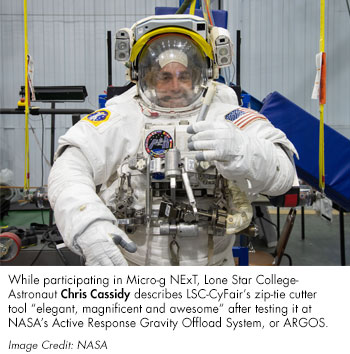 The team's pen-shaped tool, which allows an astronaut to cut and retain a zip tie securely in a motion similar to clicking a pen, won top TSGC design awards against mostly senior teams from four-year universities.
Micro-g NExT success proved to Vasek, team lead and future mechanical engineer, that "big things can come from small schools."
Further testing this June at ARGOS, where Astronaut Chris Cassidy called the tool "elegant, magnificent and awesome," went so well that NASA Hardware Development Project Manager Mary Walker said they want to develop LSC-CyFair's tool concept for flight design and send it to the International Space Station - a first in the 4-year history of the NASA Micro-g NExT challenge.
"I don't think we ever fathomed coming this far with our tool," said Liso, who wants to become an oil company diver or NASA safety diver in the NBL. "It was almost unbelievable to hear our tool would be used by astronauts all over the world while at the space station."
Palmer, who plans to be a high school math teacher, said "I could never have imagined as a child that one day I would help accomplish something so amazing."
Elizabeth Blome, the team's NASA Micro-g NExT mentor, said not only is this the first use of a Micro-g NExT tool in orbit, but they are intending to use the tool to assist with the repair of the Alpha Magnetic Spectrometer (AMS.)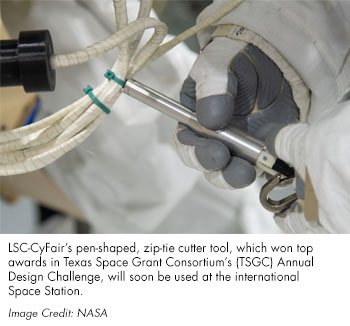 "We are making history not only at LSC-CyFair, but in the NASA Micro-g NExT program, "said Gonzalez, a future chemical engineer. "I hope that our story will encourage other community college students to continue this legacy."
In mid-July, LSC-CyFair's student team had a video conference with NASA to demonstrate the new operation of a modified design of their zip-tie cutter tool.
Dr. Wang said the team also has received generous support from industry. Panduit donated zip ties for testing purposes and Sond Industries, Inc. has helped the team manufacture metal prototypes.
"I'm very proud to be part of such a great team, and I'm truly stunned at the successful life our project has taken on," said Philippi, who is transferring to Texas A&M for Aerospace Engineering said. "I only went back to school to get a better job, but now with hard work I can follow my childhood dream to be on a NASA team that puts a permanent base on the moon and Mars."
In the meantime, Professor Cammon and Dr. Wang's students will be working on design modifications for NASA Extreme Environment Mission Operations (NEEMO) testing later this fall.
"To design a tool to use in the International Space Station could be a professional goal many working engineers aspire to, and our students achieved it while in school," said Dr. Wang. "Professionalism, dedication, and team cohesion make our team stand out among schools across the country. I am honored to be part of this amazing journey of our students."
Registration is open for LSC-CyFair's fall semester, which begins Aug. 27. For information on the Engineering Program email Cy-FairEngineering@LoneStar.edu.