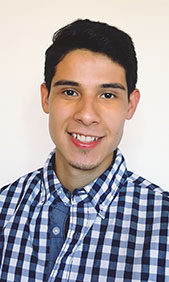 Passionate about international educational opportunities and influencing the culture of societies through infrastructure, future civil engineer Diego E. Ortiz Vigil is honored to be Lone Star College-CyFair's second recipient of an all-expense paid engineering associate to master's degree transfer program in France.
After graduating Magna Cum Laude as an Honors College Merit Scholar in May, this international student from El Salvador began a prestigious study abroad program in partnership with the French Embassy and Network "n+i" Engineering Institutes in July.
"Beyond having the opportunity of advancing my studies, studying abroad in France has already expanded my appreciation for other cultures," said Ortiz, who was a full-time student and worked in the Student Life office. "Though I know that the culture shock and the language barriers may be a challenge at first, I am excited for what is to come as this is a unique experience that I never even imagined I would be able to have."
The "n+i" program provides students language training, a full scholarship with living allowance, and an internship at a French cooperation, said Dr. Katharine Caruso, LSC Associate Vice Chancellor for Honors and International Education. The program is designed to enhance engineering students' knowledge of future technologies while focusing on environmental preservation.
Born into a family of engineers, Ortiz said he grew up playing the role of a constructor and simulating the life of a city as he built houses, bridges, roads, and other infrastructure with his toys. Now he's focused on the construction and design of megastructures, especially skyscrapers.
"Like the One World Trade Center in New York City is a symbol of overcoming disaster and unity, I want to contribute to the positive development of the identity of societies through infrastructure," he said.
While at LSC-CyFair, Ortiz said he took advantage of the different programs and tools offered for academic success. He became an active member of Phi Theta Kappa and the Honors College developing leadership and teamwork skills, which are highly valued in the professional field.
"Throughout his tenure on our campus, Diego exhibited the qualities of a servant–leader," said Professor Esther Robinson, Honors College Director. "He was diligent in his studies, and active in a number of service projects mentoring and tutoring students, participating in the Galveston Bay Beach clean-up, and more."
Beyond his experiences on campus, Ortiz was one of 10 students in the LSC system selected for a highly competitive honors international educational program trip to Japan.
"This was a great and enriching experience for me as it expanded even more my awareness and appreciation for other cultures," said Ortiz.
Serving as a delegate in the National Model United Nations conference in New York further sparked his curiosity to understand and discover other cultures around the globe.
"We are so proud of all Diego's accomplishments while here at LSC-CyFair," said President Dr. Seelpa Keshvala. "He exemplifies the success our students can achieve when they take advantage of our advanced academic programs. Through his active engagement as a scholar and campus leader, I know he has the skills to be successful in this amazing experience that will positively impact his future."
For information on LSC-CyFair's Honors College, Phi Theta Kappa or fall courses, go to LoneStar.edu/Cyfair.