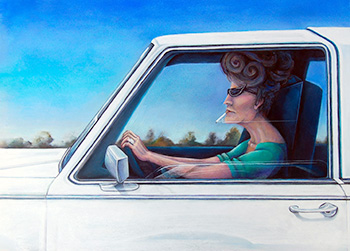 Come see how Houston artist Natalie Stovall feels about life as reflected in her artwork on display Oct. 11 through Nov. 8 in the Lone Star College-CyFair's Bosque Gallery.
"My artwork reflects my thoughts and feelings about life, and, like life, it is often funny, sometimes lonely, occasionally tragic and forlorn," said Stovall, an adjunct art professor at LSC-CyFair.
The "Chance Sightings and Odd Encounters" exhibition features a series of charcoal, soft pastel and mixed media 2-dimensional drawings and paintings about the human experience that were unusual and unexpected.
"The work explores the transitions that we all traverse be they the passing of time, the cycle of birth and death, the moving from youth to old age, the growing from ignorance to wisdom, or the elevation of the mundane to the sublime," said Stovall.
Raised in Houston, she graduated in 1980 from the High School for the Performing and Visual Arts and went on to earn her bachelor's and master's in fine arts before returning to Houston in 1987. She worked as a marketing director for a real estate firm before becoming a full-time artist in 1999. In addition to teaching, she recently illustrated a children's book.
Learn more about Stovall in person at the opening reception from 5 p.m. – 7 p.m. Thursday, Oct. 11 and the Tea+Art+Talk from 1:30 p.m. – 2:15 p.m. Tuesday, Oct. 23.
The Bosque Gallery is located in the Center for the Arts building on the Barker Cypress campus at 9191 Barker Cypress. Gallery hours are 11 a.m. – 3 p.m. Tuesday through Thursday. For information, go to LoneStar.edu/bosquegallery or call 281.290.5273.