Cy's Spotlight

Violet Dang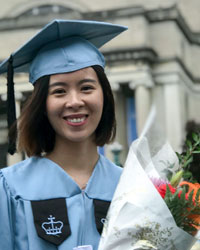 October, 2018: As an international student at LSC-CyFair, Violet Dang got involved in organizing college and community events. Her confidence grew as she improved her communication skills in English, her second language, and developed leadership skills.
"I credit my time with the Student Ambassadors to be one of the most impactful experience that really made me who I am today."
This 2011 grad went on to earn her BBA at Texas Christian University and just graduated in May with an MA from Columbia University. Now as a Data Scientist in the Healthcare Analytics practice at McKinsey and Company in New York, she applies advanced analytics to solve complex business problems in healthcare while helping leaders in the industry make the best use of their data.
"The work I'm doing is meaningful because I'm playing a role in shaping up the transformation of the healthcare industry using analytics."