Cy's Spotlight

Rey Laurencio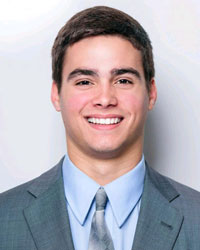 Rey Laurencio grew up as a native Spanish speaker, struggling to adopt the English language, when his family won a visa lottery and emigrated to the United States from Cuba. In high school, he was more focused on sports than academics. However, he became an Honors College student at LSC-CyFair and held officer positions in the Business Savvy Club, Student Government Association and Phi Theta Kappa. Rey graduated in 2016 with an associate of arts in business with highest honors in research and a prestigious Jack Kent Cooke Undergraduate Scholarship recipient (the second in LSC-CyFair history.)
Rey went on to earn a Bachelor of Arts in History from the University of Texas at Austin in May 2018. In addition, he received a Jack Kent Cooke Graduate Scholarship and is currently attending the Thurgood Marshall School of Law, Texas Southern University with plans to become an immigration lawyer. Rey's advice is to "Never limit yourself, surround yourself with the right people who genuinely care, put in the work and always believe!"
Samantha Ceballos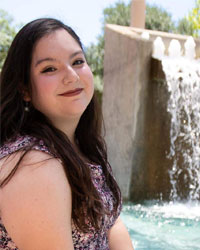 With a passion for literature and writing, Samantha Ceballos plans to become a professor to help others see the power of literature and not fear reading and writing. She was an honors student graduate first at LSC-CyFair in 2016 and then at UTSA where she earned her BA in English with concentrations in Creative Writing and Professional Writing.
While at LSC-CyFair, she won third-place in two Poetry Slams, conquered stage fright through Pecha Kucha contest and Honors College conferences and learned to have pride in her work. She was one of the student editors for LSC-CyFair's annual literary publication "The Barker's Voice: A Journal of Arts and Letters" and later the main editor for UTSA's "Paisano Plus."
She also had the opportunity to interview author Sandra Cisneros as a sophomore in college, which she said was background information that helped push her undergraduate thesis to a new level.
Samantha, who would also like to continue to be an editor for a journal or magazine, is now pursuing her MA and MFA at Our Lady of the Lake.
Elizabeth Hale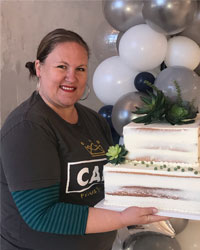 February 2019: Elizabeth Hale, who is a mother, wife, singer, actor, and small business co-owner, said it's a little surreal having come full circle from being a Lone Star College-CyFair student in 2008 to returning 10 years later as a vendor creating a customized cake for the January opening of LSC-Westway Park Technology Center.

She first shared her vocal and acting talent on stage in operas such as "The Mikado" (Katisha) and "The Marriage of Fiagro" (Marcellina) and productions including The Wizard of Oz (Cowardly Lion) and Beauty and the Beast (the Wardrobe). Now as co-owner of "Cake. Fine Pastry" with her husband, Jerry, she's impressing the college and Cy-Fair communities with her creative culinary talent. In addition, they had the once-in-a-lifetime opportunity to compete on the Food Network's "Winner Cake All" which will air March 11.

Attending LSC-CyFair may become a family affair as she hopes to return to continue her own music education and have her two children, now at Langham Creek, start their college career here. She says the faculty and staff were great and the music and arts program went beyond her expectations.
Matthew Lawson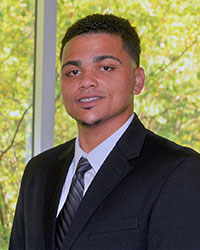 January 2019: Currently a full-time father to one son and resident of Indiana, Matthew Lawson plans to be a federal defender in Indiana and one day to run for public office.
When he began at LSC-CyFair in 2009, he wasn't really "college ready" nor did he have any professional skills, some of which he learned working in the Financial Aid office. However, he said small classroom sizes allowed professors - who were helpful, encouraging and accessible - to get to know and understand their students.
It was during Professor Heidi Jo Green's Introduction to Political Science that he developed a love for the American political system and made the decision to pursue a law career.
This 2011 LSC-CyFair grad transferred to Indiana University earning a bachelor's in Political Science and minoring in pre-law in 2015. And this past May, he graduated from (Robert H.) McKinney School of Law at Indiana University - Purdue University Indianapolis and in July passed his Bar Exam.
"LSC-CyFair put me in a position to attain my current successes and it will always hold a special place in my life!"
Shiven Patel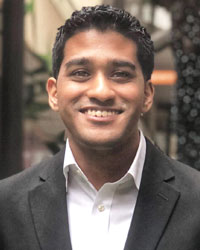 December, 2018: Former Lone Star College-CyFair student Shiven Patel is on track to become a lawyer working in areas of disability advocacy.
"All throughout my education I was pushed to my limits, especially as a student with a disability," said Shiven, who is legally blind and currently a full-time student at South Texas College of Law Houston. "I have faced a fair amount of discrimination both in my personal and professional life. I understand the daily struggles of others dealing with discrimination and that is what made me want to advocate for my community."
At LSC-CyFair, he appreciated the small classes and professors who took time to get to know their students and be available outside of class. He also received assistance from the Disability Services staff who provided accommodations and technology he needed to succeed in the classroom. And, he learned the importance of a hard work ethic, which led to making the President's List and maintaining a 4.0 his last two semesters.
With plans to graduate law school in December 2019, Shiven is looking forward to a rewarding career advocating for those with disabilities.
Dr. Brian Herrington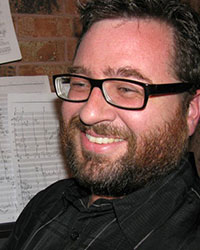 November, 2018: Dr. Brian Herrington, Assistant Professor of Music and Symphony Orchestra Director, was named an American Prize finalist for composers of works for band/wind ensemble in professional and student division, for "Verses from the Thicket." Conductor and composer Peter Stanley Martin describes Brian's work as a "powerful antiphonal work for winds."
Brian says music transcends language, making it an almost magical art form. He grew up in a small rural town without much access to the arts, so he feels a great debt of gratitude to his music teachers who provided a lifeline for his self-expression. He taught as an adjunct at LSC-CyFair since 2006 and became full-time in 2018. Many former students who have become teachers gives him great satisfaction.
Music is also a highly collaborative art with his works created with specific musicians or works of poets in mind. His recent award-winning piece was written for a student ensemble and he's delighted that the shared project has garnered national attention.

Violet Dang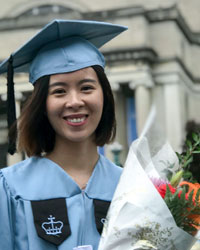 October, 2018: As an international student at LSC-CyFair, Violet Dang got involved in organizing college and community events. Her confidence grew as she improved her communication skills in English, her second language, and developed leadership skills.
"I credit my time with the Student Ambassadors to be one of the most impactful experience that really made me who I am today."
This 2011 grad went on to earn her BBA at Texas Christian University and just graduated in May with an MA from Columbia University. Now as a Data Scientist in the Healthcare Analytics practice at McKinsey and Company in New York, she applies advanced analytics to solve complex business problems in healthcare while helping leaders in the industry make the best use of their data.
"The work I'm doing is meaningful because I'm playing a role in shaping up the transformation of the healthcare industry using analytics."
Bryan Ramirez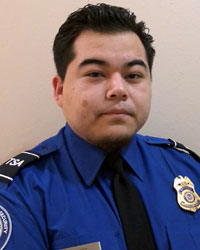 May, 2018: Bryan Ramirez, who recently graduated from the Transportation Security Administration Academy in Brunswick, Georgia, now works in Homeland Security as a Transportation Security Officer. When he graduates from Sam Houston State University, he plans on becoming a United States customs officer and ultimately a Federal Air Marshal.
His interest in the Criminal Justice Field began as a teenager in the Harris County Sheriff's Explorer Program and was strengthened at LSC-CyFair, where he was a Criminal Justice student and CJ Club member graduating with an associate's degree in 2016.
"I owe my success to Professor Jennifer Bourgeois, who pushed me and my classmates to be our best. She gave us the chance to meet many professionals who are a part of the criminal justice system in both local and federal agencies. I came across the job I currently have, thanks to the networking skills she taught and had us practice in and out of the classroom."
Joly Zuniga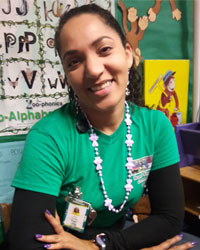 April, 2018: Joly Denis Giraldo Zuniga is now in her seventh year as a bilingual kindergarten teacher at Alief ISD Youens Elementary School and a special education teacher in the summer at Alief ISD.
She began at LSC-CyFair 10 years ago in LSC-CyFair's English for Speakers of Other Languages (ESOL) program followed with the Alternative Teacher Certification Program (ATCP.) Joly, who is from Colombia and is still friends with some of her ESOL classmates, recommends the ESOL and ATCP programs because she said her teachers were so supportive.
"Little children are like sponges absorbing everything. Then when they are reading or know their numbers, it's satisfying to know you helped them."
While at LSC-CyFair as a full-time student, she also served as a Spanish tutor and volunteered in the children's library helping with Spanish Storytime.
Joly is a single mom of a 3-year-old daughter and a foster mom to siblings ages 3 and 4. This December, she will graduate with a master's in Special Education and hopes to become an Educational Diagnostician.
Aesha Aleem-Lee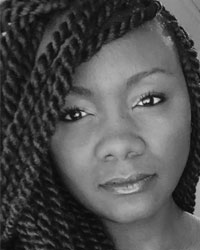 March, 2018: LSC-CyFair adjunct art instructor and Houston artist Aesha Aleem-Lee was recently featured in a Houston Chronicle article recognizing her talent in "The Beauty of the Black Woman" exhibition, which explores the diversity found in the African-American woman. Her exhibition was on display at the Art League of Houston (Dec. 1- Jan. 20) and the Houston Museum of African American Culture (during Black History Month.) The exhibition of Aesha's portraits pay homage to the diversity, strength and beauty of black women and address a gap in how are portrayed in popular culture.
"The idea behind the series is to address some of the many concerns that plague the black woman, and to challenge those notions with playful titles and beautiful images."
With a bachelor's in studio painting from the University of Houston and master's from the University of St. Thomas with a concentration in Art History, Aesha has taught at LSC-CyFair for three years. This instructor, whose love of art made teaching a natural choice, said she hopes her students "not only learn different ways to view art, but obtain a comprehensive understanding and appreciation for the art that they view in the future."
Kaylin Sheppard
February, 2018: CONGRATULATIONS to LSC-CyFair Phi Theta Kappa and kinesiology student Kaylin Sheppard, who is one of 10 students nationwide selected to receive the 2017 Pearson Scholarship for Higher Education, a $5,000 award!
This prestigious scholarship is awarded to Phi Theta Kappa members who are civically engaged in their community through service and who demonstrate leadership, academic rigor, and excellence. Preference is given to first-generation college students. Kaylin was recently accepted to attend the University of Texas at Tyler in the fall and plans to become a physical therapist.
"I understand the importance and honor of receiving this scholarship and enjoy the mentorship that comes with it. This scholarship encourages me to be a better student, showing PTK and donors that I am a good steward of the good things that come to me. Choosing a career in the medical field is only one way I can give back to my community in the future. I hope to someday give of my resources to a scholarship organization to help benefit another student."