Lone Star College 2015 Fall Convocation
System-wide Convocation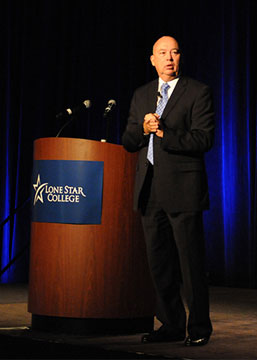 Lone Star College held its system wide convocation on Aug. 18, 2015. There are so many exciting things taking place at LSC. This was a wonderful opportunity for faculty and staff to see where Lone Star College began and where we are headed.
Attendees were made aware of the changing student demographics that have taken place over the past 10 years and our projected growth in the next five years. They also heard about our strategic priorities, our values and our core principles.
We also spent a lot time talking about going forward and the exciting new initiatives taking place including the Honors College, The Center for Civic Engagement and the new employee campaign to support the LSC-Foundation. Lone Star College is truly redefining the community college experience.
Each of the colleges also held convocation ceremonies, putting a personal touch on them.
LSC-CyFair
LSC-CyFair staff enjoyed a campus lunch and fellowship followed with convocation and an afternoon of bond and academic updates as well as division/department meetings. President Dr. Audre Levy and her administrative team welcomed new employees, provided campus renovation news, and promoted upcoming forums and the Foundation's Employee Giving Campaign.
LSC-Kingwood
LSC-Kingwood's convocation outlined the completion rates for LSC and the strategic plan goals that will benefit student success. In a breakout session, employees discussed and brainstormed ways to implement the following eight Key Performance Indicators: persistence, overall successful course completion, developmental math completion, developmental reading and writing completion, certificates and degrees, partnerships, culture, and financial.
LSC-Montgomery
LSC-Montgomery's convocation had a "Back to the Future" theme, as the college kicked off its 20th anniversary celebration. Employees gathered in the main stage theatre for a series of videos and information about the upcoming year. Dozens of photos from the college's annual "Summer Spirit Challenge" were shown, as well as highlights from the 2014-15 year, introduction of all new employees, and a comical spoof of "Back to the Future".
LSC-North Harris
LSC-North Harris kicked off the 2015 academic year with a "welcome back" breakfast, where faculty and staff mingled before convocation began. With much anticipation for many employees, meeting new President Dr. Gerald Napoles for the first time added extra excitement to the event. The convocation opened with each department introducing its newest employees. Faculty Senate President Kiwana Francis took the podium to share faculty news and updates before Dr. Napoles presented 2014-15 PSSA President Deidre Taylor with an award for her service and commitment to higher education.
LSC-Tomball
LSC-Tomball's All College Meeting served as a rousing kick-off to the G3 (Grit-Growth-Greatness!) initiative being implemented this fall. President Dr. Lee Ann Nutt delivered remarks on the state of the college and new vice president of instruction Dr. Quentin Wright discussed possibilities for growth and enhancement going forward. The keynote address was delivered by Dr. Paul Stoltz with whom LSC-Tomball is partnering this year on a groundbreaking study to examine the benefits of emphasizing good GRIT in the classroom and how doing so influences student success.
LSC-University Park
LSC-University Park faculty and staff were reminded that they might be the only person a student has to rely on. With real examples, LSC-University Park President Shah Ardalan illustrated the important role faculty and staff have as they work in and outside of the classroom. Other convocation highlights included a review of the Top 5 priorities set by LSC Chancellor Stephen C. Head. They are college partnerships, student success, culture, academic and workforce program quality, and financial responsibility and accountability.