About the EVC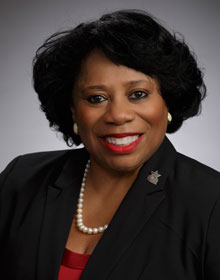 Dr. Alicia B. Harvey-Smith currently serves as Executive Vice Chancellor of Lone Star College. A learning-centered educator with 25 years of experience in leadership, instruction, training, development and consulting, Dr. Harvey-Smith is a passionate teacher and ethical leader, who views leadership as a "calling to serve."
Before joining LSC, Dr. Harvey-Smith was president and CEO of River Valley Community College in New Hampshire, with locations in Claremont, Keene and Lebanon, New Hampshire, from 2013-2016. During her tenure as President, Dr. Harvey-Smith expanded partnerships with business and industry, achieved significant success in fundraising, led the college's first ever Development Campaign, acquiring much needed scholarship dollars and equipment while heightening the college's visibility and support locally and nationally.
Dr. Harvey-Smith helped to transform the colleges' culture by establishing an infrastructure focused on Student Access, Student Success, Teaching and Learning and Sustainability. Making important capital improvements and expansions; under her leadership the college successfully negotiated and opened a new academic center in Lebanon to expand access within its service area, increased enrollment, gained specialized accreditations, revitalized the nursing program regaining national accreditation.
Prior to serving as president, Dr. Harvey-Smith served as vice president of Student Affairs at Baltimore City Community College from 2008-2013. Prior to this role, she served as dean of Learning & Student Development from 2003-2008 and dean of Learning Support Systems from 2000-2002 at the Community College of Baltimore County.
Dr. Harvey-Smith has provided oversight for non-credit and workforce development programs, worked successfully in senior level student affairs and academic affairs positions, and held a variety of academic and administrative roles in education, including K-12 Special Educator, Community College Counselor, Faculty, and Guest Lecturer at the university level, as well as, program director, executive director, dean, vice president and president.
A nationally-recognized educator, in June 2016 she was appointed to the American Association of Community Colleges (AACC) Executive Board after being elected by her peers to its board of directors. She served as co-chair of the Commission on Academic, Student and Community Development and most recently as chair of the Committee for Community College Advancement.
An accomplished author, whose publications include: The Seventh Learning College Principle: A Framework for Transformational Change and The Adoption of the Learning Paradigm in Student Affairs Divisions of Vanguard Community Colleges: A Case Analysis", cited in Redesigning America's Community Colleges: A Clearer Path to Student Success". Her most recent publication is Eclectic Insights (Part 1); a composition of Poetry and Essays spanning three decades, her latest manuscript: CARE – Compassion, Appreciation, Respect and Empowerment: Essential Leadership Standards is scheduled to be released next year.
Dr. Harvey-Smith holds a Ph.D. from the University of Maryland in Counseling and Personnel Services; a master's in Guidance and Counseling from The Johns Hopkins University; and a Bachelor of Science degree in Business Administration from Morgan State University. She also holds a certificate from the Harvard University School of Education Competitively-Selected Presidents Institute. Dr. Harvey-Smith and her husband Major Donald Smith of 32 years live in the Woodlands, Texas.