2018 Gulf Coast Intercollegiate Consortium (GCIC) Conference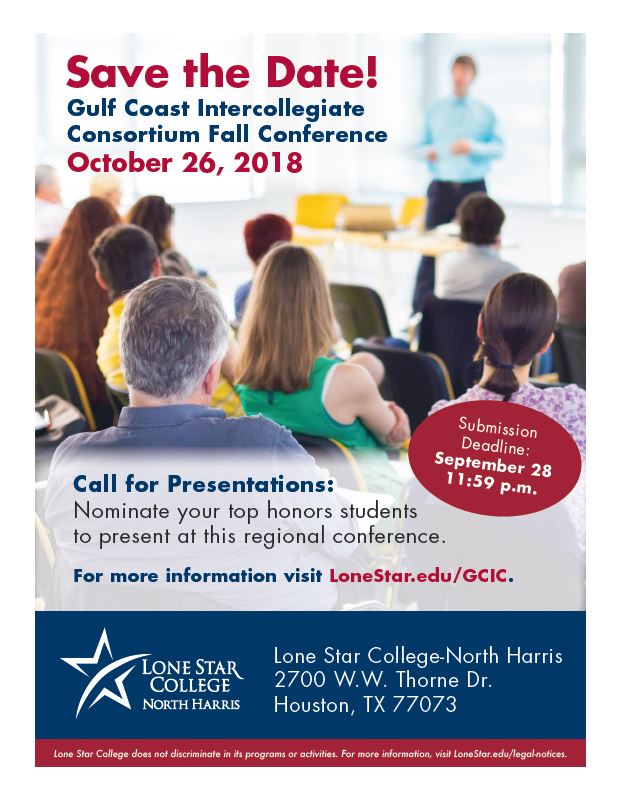 SAVE THE DATE: Gulf Coast Intercollegiate Fall Conference
October 26, 2018
Lone Star College-North Harris
2700 W.W. Thorne Dr. Blvd, Houston, TX 77373
Abstract Submission: Due September 28, 2018 by MIDNIGHT (11:59P.M.)
1. Prepare your abstract using the resources below.
2. Complete Application and upload abstract below.
3. If your presentation is accepted by the committee, please use the "Pay Here" link below to pay the registration fee.
Resource Information Please use the resources below to help with your abstract submission:
PowerPoint : this PowerPoint has useful information on how to write an abstract.
Abstract Writing Resource: This website has useful information on writing within specific disciplines.
We will notify you of accepted abstracts by Monday, October 08. Abstracts that require revision will be due by noon, Monday, October 15, and we will notify you of final acceptance of revised abstracts by Wednesday, October 17.
Registration Fee: $20 Due October 22, 2018 (11:59PM)
**Please remember to register ANY and ALL guests attending the conference (Directors included)**
For more information
**Please Check Back for further information regarding the Spring 2019 retreat**
For more information, contact your honors dean, director, or coordinator for details or call: