Galaxy 21
Galaxy 21 is a program of academic and cultural enrichment.
This faculty-student forum will focus on thought leadership on emerging issues.
Session
Treasures on display from the Museum of Natural Science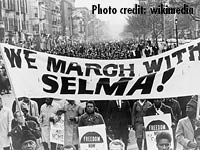 Topic: Remembering Selma
Panel: John Theis, Professor, LSC-Kingwood
    Brian Reeves, Professor, LSC-University Park
    Sarah Ray, Student Life, LSC-University Park
Date: Thursday, March 5, 2015
Time: 2 p.m. - 3:30 p.m.
Location: The Teaching Gallery, B12.805
For more information contact Stephen Mendonca, Stephen.J.Mendonca@lonestar.edu