International Education Week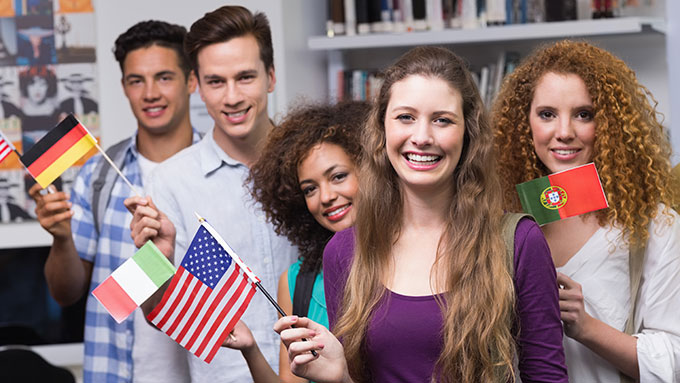 Welcome! International Education Week (IEW) is an opportunity for Lone Star College campuses to celebrate the benefits of international education and exchange worldwide.
Check with each LSC campus for their planned IEW events and activities throughout the week of
November 13-17, 2017.
See below for a list of the activities planned by LSC campuses:
LSC-CyFair
Date
Time
Description
Campus
Location
Monday,
November 13
12:30 pm - 1:30 pm
Global Friendship Club's Culture Tables
International displays showcasing various countries and cultures
LSC-CyFair
College Center
Tuesday,
November 14
11:30 am - 2:30 pm
International Festival
Enjoy food, fun, and music!
LSC-CyFair
CASE Lobby
Wednesday,
November 15
12:00 pm - 1:00 pm
International Heritage Society's Fashion Show
See the fashion trends of various countries!
LSC-CyFair
College Center
Thursday,
November 16
6:30 pm - 8:30 pm
International Film "Movie Night"
Relax with a movie about the 1914 Christmas Truce during World War I.?
LSC-CyFair
CASE Amphitheater
Friday,
November 17
1:30 pm - 2:30 pm
Study Abroad Information Session
Learn more about the Study Abroad opportunities in Italy and Greece.
LSC-CyFair
CASE 116

Enter US Passport Raffle:

Raffle winners will have their passport application and execution fees paid by the Office of Student Life up to $135. Students can fill out one raffle ticket per event. Five winners will be announced at the Study Abroad Information Session on Friday, November 17, 2017. Students must be present to win and meet all the US Department of State requirements to apply for a US passport
LSC-Kingwood
Due to Hurricane Harvey there are no events scheduled for LSC-Kingwood and LSC-Atascocita Center.
LSC-Montgomery
Check campus for details
LSC-North Harris
Check campus for details
LSC-Tomball
International Education Week at LSC-Tomball begins a campus campaign first initiated by UN Women: HeForShe. It is a solidarity campaign designed to promote gender equality and the empowerment of women.
LSC-University Park
| | | | | |
| --- | --- | --- | --- | --- |
| Date | Time | Description | Campus | Location |
| Monday, November 13 | 9:00am-11:00am | National Model United Nations | LSC-University Park | UH area |
| Monday, November 13 | 10:00am-noon | Greetings in Different Languages | LSC-University Park | Across from Minuti |
| Monday, November 13 | 10:00am-noon | Study Abroad & International Education Conference | LSC-University Park | Across from Minuti |
| Monday, November 13 | 10:30am-11:30am | Tea Station | LSC-University Park | Across from Minuti |
| Monday, November 13 | 4:00pm-5:00pm | Salsa Dancers | LSC-University Park | Abby's Cafeteria |
| Tuesday, November 14 | 7:30am-8:30am | International Breakfast | LSC-University Park | Across from Minuti |
| Tuesday, November 14 | 9:00am-11:00am | National Model United Nations | LSC-University Park | UH area |
| Tuesday, November 14 | 11:00am-11:30am | Business Taboos of Different Countries | LSC-University Park | B13.713 |
| Tuesday, November 14 | 11:00am-2:00pm | International Heritage Showcase | LSC-University Park | Across from Minuti |
| Tuesday, November 14 | 11:30am-12:30pm | Psychology Around the World | LSC-University Park | Leo's Landing |
| Tuesday, November 14 | Noon-1:00pm | International Food & Drink Station | LSC-University Park | Across from Minuti |
| Wednesday, November 15 | 9:00am-11:00am | Bookmarks with Names | LSC-University Park | Leo's Landing |
| Wednesday, November 15 | 10:00am-noon | Learn Origami | LSC-University Park | Leo's Landing |
| Wednesday, November 15 | 3:00pm-3:30pm | The Universal Language | LSC-University Park | Abby's Cafeteria |
| Wednesday, November 15 | 3:00pm-4:00pm | Immigration Seminar | LSC-University Park | B13.210-NSO Room |
| Wednesday, November 15 | 6:00pm-7:00pm | Sex Trafficking Panel Discussion | LSC-University Park | B13.210-NSO Room |
| Thursday, November 16 | 7:30am-8:30am | International Breakfast | LSC-University Park | Across from Minuti |
| Thursday, November 16 | 9:00am-11:00am | Around the World through Virtual Reality | LSC-University Park | Leo's Landing |
| Thursday, November 16 | 1:00am-noon | Bookmarks with Names | LSC-University Park | Across from Minuti |
| Thursday, November 16 | 11:00-12:30pm | Sexuality Among Different Cultures | LSC-University Park | Leo's Landing |
| Thursday, November 16 | 2:00pm-3:00pm | International Food & Drink Station | LSC-University Park | Across from Minuti |