Lone Star College-Online
Student Updates
---
Please note the following deadlines to withdraw from a fully online winter session course:
3 week mini- Monday, December 29th at 5pm (class ends 1/3/15)
4 week mini- Monday, January 5, 2015 at 5pm (class ends 1/10/15)
We must receive your email by 5pm on the date which applies to your course. Due to privacy laws, you are required to send the withdrawal request from your Lone Star e-mail account only to onlineadvisor@lonestar.edu.
Your request will only be processed if we receive the withdrawal form (see link below), filled out completely. We will send you a confirmation when the withdrawal has been completed or if you missed the deadline.
Withdrawal Form: (If you are experiencing trouble accessing the Schedule Change form, download the form by right-clicking the link and selecting "Save Link As")
http://www.lonestar.edu/departments/webservices/Schedule_Change_Form_Final.pdf
If you are not taking a fully online course, please visit your campus location during winter operating hours: http://www.lonestar.edu/departments/webservices/Winter-Hours.pdf
---
Need help with your online courses? The Service Desk is available 24/7.
Lone Star College-Online, Anywhere, Anytime!
Lone Star College-Online is committed to providing you with online learning opportunities to meet your educational, professional, and personal goals. Lone Star students have access to:
Online classes allow students to obtain college credit through the use of a variety of learning activities, via discussion boards, interactive class projects, presentations, and written papers. Online classes may require proctored (supervised) exams or other necessary learning activities such as specific orientations or labs.
For these activities, online students may have the option to go to an LSCS college site or to an off-campus location that is convenient to them and approved by the instructor. Course and testing requirements for LSC-Online courses vary – please check with your course instructor to ensure that your personal and/or employment schedule and location will enable you to successfully complete all of the course requirements!
Hybrid classes are those where approximately 50 percent or more of face-to-face instruction is regularly replaced by online coursework.
Is online learning right for you?
Before you enroll in an online course, take some time to find out if online learning is right for you and how you can be successful in an online learning environment by completing our Online Skills Assessment.
To begin, simply log in using the following log in and password:
Login: lscstudent
Password: lonestar
Complete Your Criminal Justice Degree Online!
Students can now complete an Associate of Arts degree in Criminal Justice online!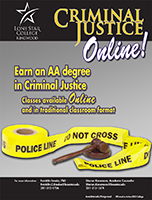 The Criminal Justice AA is an academic transfer degree leading to the bachelor of criminal justice degree. Credits earned in this field of study transfer to other four-year colleges in Texas. To earn a Criminal Justice AA degree, students must successfully complete 61 credit hours. Depending on the number of hours completed during a semester, individuals can earn a criminal justice degree in as little as one-and-a-half to two years. Students must first be admitted to the Lone Star College System and are then able to apply for the Criminal Justice degree.
For more information on the Criminal Justice degree, please contact:
US Department of Education Notice
The United States Department of Education requires that we inform students of the complaint processes in the state in which the student is receiving the education – http://www.sheeo.org/node/434
Contact Information
Technical Assistance or
Login Issues:
Online Academic Advising