Machining Master Certificate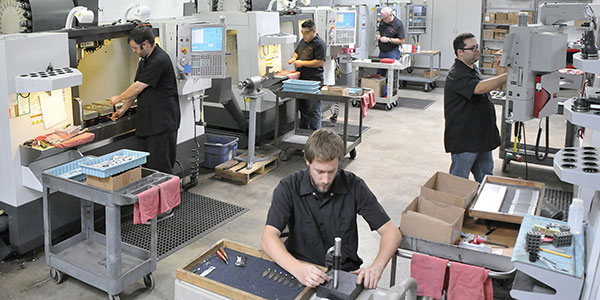 The Machining Master Certificate is a non-credit Fast Track program offered at LSC-Conroe Center and LSC-University Park. For more information, please contact the Continuing Education department at LSCCE@LoneStar.edu.
Visit the Manufacturing cluster page for similar careers.
Program Description
The Machining Master Certificate prepares graduates for careers in the operation and programming of computer numeric control (CNC) drills, grinder, mills and lathes used extensively in the manufacturing and repair industries. This program provides students with needed math skills, as well as an excellent blueprint reading, geometric dimensioning and tolerancing, and precision measurement tools used in the actual industry. The master certificate program also includes advanced course offering include manufacturing, utilizing CNC equipment, computerized machine protocols as well as manual machining . This combination of courses contributes to a safe and productive environment for the trainee to develop the skills necessary for an apprentice position in the machining industry.
Contact Hours: 384
Cost of Program: $5,283
Median Wage: $38,670 per year1
Program Plan
Subject
Number
Title
Contact Hours
MCHNC
1104306
Machine Shop Mathematics
64
DFTGC
1102500
Blueprint Reading and Sketching
48
MCHNC
1103801
Basic Machine Shop I
80
BUSGC
1101200
Work Skills for the Workplace
16
MCHNC
1200300
CNC Machine Controls, Fundamentals
48
MCHNC
1203100
Operation of CNC Turning Center
64
MCHNC
1203400
Operation of CNC Machining Centers
64

TOTAL Contact Hours for Machining Master Certificate:

384
This certificate program prepares for the first NIMS Exam.
Wage Data is based on annual salaries from Bureau of Labor Statistics, U.S. Department of Labor, Occupational Employment Statistics, 2013, www.bls.gov/oes.