Model UN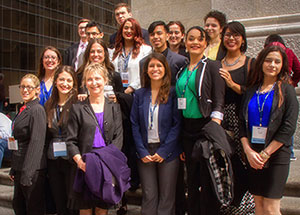 Students from Lone Star College received the Outstanding Delegation award for the second year in a row at the recent National Model United Nations conference.
More than 50 percent of participating students in the event were from schools outside of the U.S., many of them university students studying foreign policy who plan to pursue diplomacy as a career. Colleges represented at the event included Brigham Young University, Syracuse University-Maxwell School, The Hague University of Applied Sciences, University of Mississippi, University of South Wales, University of Ottawa, and Washington State University.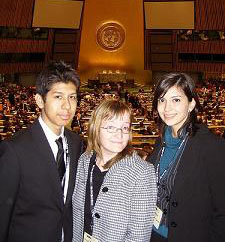 Lone Star College offers students the opportunity to learn about global issues and the challenges of diplomacy through the competitive Model UN program. The Model UN is a simulation of the United Nations system, where students assume the role of diplomats and participate in debates on current global issues found in the UN agenda. The Model UN delegations compete in the Spring semester. Faculty advisors are listed below.
Contact Information
Lone Star College is pleased to announce the formation of two joint Model UN delegations with representation from all six campuses. Listed in alphabetical order by campus, please e-mail your LSC faculty sponsor for more information.

Honors Model UN Delegation: CyFair, North Harris, and University Park campuses
LSC-CyFair
Professor Esther Robinson, Honors Director
LSC-North Harris
Professor Maria Donaire-Cirsovius, Honors Director
Professor Ralph Angeles, Assistant Professor of Government
Professor Casey Garcia, Professor of Humanities
LSC-University Park
Professor Brian Kyser, Honors College Lead Director
---
Lone Star College Model UN Delegation: Kingwood, Montgomery, and Tomball campuses
LSC-Kingwood
Professor Peggy Lambert, Professor of History
LSC-Montgomery
Professor David Kennedy, Professor of Political Science

LSC-Tomball
Professor David Birch, Professor of Political Science