My Degree Counts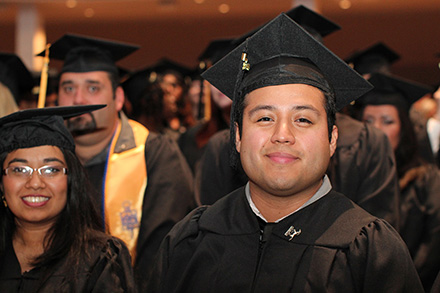 Why Completion Matters
Completing a degree, certificate, or other credentials through Lone Star College will improve your employment opportunities and earning potential. According to a report by the Georgetown University Center on Education and the Workforce, the number of jobs requiring additional education beyond high school is predicted to increase 63% over the next decade. My Degree Counts is an initiative spearheaded by the Center for Houston's Future that aims to increase college attainment in the greater Houston region. At Lone Star College we are committed to helping students achieve their educational goals and meet the workforce demand. Here are ways Lone Star College supports student success:
Financial Aid & Tuition
Lone Star College is a very affordable option and financial aid is available to most students.
Student Services
Lone Star College offers many services that can help you overcome challenges you may be facing when trying to complete your degree or certificate.
Academic Advising
Our Academic Advisors are committed to helping you choose the right path and stay on course.
Counseling Services
Change and personal growth are all elements of the college experience. We are dedicated to helping you succeed through a variety of counseling services.
Tutoring Services
All students enrolled in courses with LSC, including online courses, can use the tutoring center that works best for them, regardless of location. Tutoring is covered for all students through the enrollment fee so no payment is required to use these services.
Top 3 Reasons to Finish
FINISH to keep your job. You are less likely to be unemployed if you have a degree.


FINISH for your children. The likelihood that children go to college increases if at least one parent has gone to college.



FINISH to make more money. You will make about 84% more over your lifetime with a bachelor's degree than with only a high school degree.


Check Out the
Earning Graph
It's Never too Late
Maybe it has been a few years since you attended College. Give us a little information through our online form and we can help to get you what you need to FINISH your degree or certificate.

College Graduation

The Center for Houston's Future believes in your potential, and is leading the My Degree Counts initiative to increase the region's college graduation rate 1% by the year 2013.