Learning and Development
Learning and Development offers behavioral based learning that encompass personal and interpersonal skill development. Offerings include topics such as supervisor development, CliftonStrengths®, team-building workshops, and much more. These learning opportunities are researched, designed and delivered in-house by learning and development professionals from across Lone Star College. Delivery methods include classroom training, train-the-trainer, coaching, seminars and e-learning.
Learning and Development Opportunities
General Sessions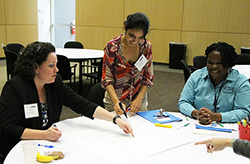 A variety of programs are designed and scheduled throughout the semester at all campuses to provide meaningful, engaging learning opportunities. These sessions are open to all employees and cover a range of topics.
Customized Sessions
The Learning and Development team works closely with others across the college and offers workshops tailored to meet the specific needs of teams and departments. These partnerships increase effectiveness to work as individuals and as a team to reach the common goal. Sessions can be a one–time occurrence or a series of workshops.
Learning & Development Workshop Series Opportunities
Supervisor Success: An Appreciative Approach to Leading Others
The goal of the Supervisor Success series is to prepare current and future supervisors for their work with teams. The series offers several foundational workshops and allows participants to select the additional workshops that best meet their needs, for a total of 9 workshops. Most sessions are offered once a semester, and upon completion each participant is awarded certification and the ability to enhance his/her career at Lone Star College.
Business Basics Series
This four-session series will help sharpen business skills and empower the participant to navigate a variety of professional settings.
Emotional Intelligence
This series helps participants understand their personal EQ and how to gauge and understand others.
CliftonStrengths® Series
This series takes the participant on a journey to explore their individual strengths, how to use their strengths on the job, as well as exploring the talents of their colleagues. The series also provides a look into the domains of leadership and how to create a strengths-based work environment.
Campus Partnerships
This group is a collaborative effort involving a representative from each campus that meets regularly to share best practices, ideas, and visions for learning and development across Lone Star College. Involvement of the group results in a higher quality of learning and development opportunities and assists in the development of new sessions and programs within LSC.
Mission
Empowering people to engage in a collaborative culture through meaningful learning experiences.
Purpose
Cultivate partnerships that maximize employee and organizational development to ultimately support student success.
Your vision is our purpose.
Questions?
For more information, email
LSC-OrganizationalDevelopment
@lonestar.edu.