United Pet Rescuers of Montgomery County
2018 Pet Rescue Conference
Learning • Networking • Exploring Resources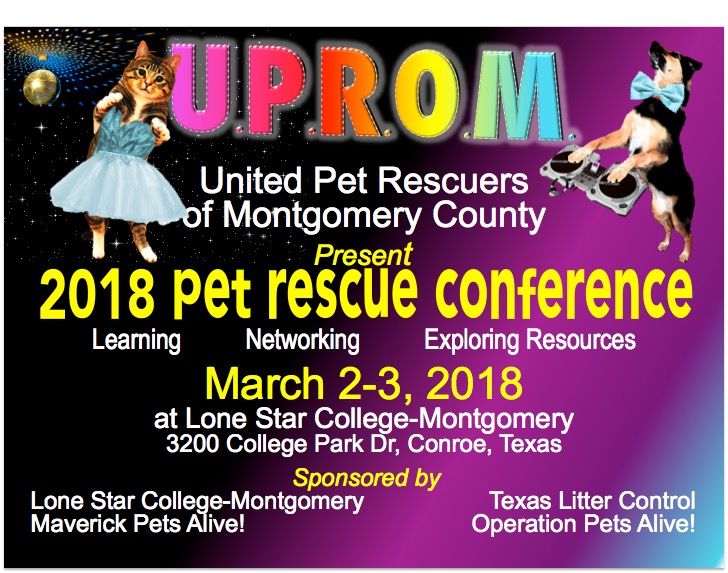 Please join us at our 2nd annual pet rescue conference! This conference is intended to provide a platform for education and collaboration for a No Kill community. Everyone is welcome. We hope to see representatives from all of the local animal welfare organizations, shelters, and anyone from the general public interested in helping animals in our community!
Friday, March 2, 2018 from 11:30 a.m.-6 p.m.
Keynote Speaker - No Kill 2025 A Regional Perspective - Brent Toellner, Regional Director, Best Friends Animal Society
Saturday, March 3, 2018 at 8:30 a.m. - 3:20 p.m.
Saturday's sessions will focuses on education and networking within the animal welfare community.
The conference will be held on March 2nd from 11:30am to 7pm and March 3rd from 8:30 a.m. to 4 p.m. Dinner will be provided on the 2nd and breakfast and lunch on the 3rd for those who pre-register. Meals will not be provided for attendees who register at the door.
General Admission
By February 10 - $25
From February 11 to February 23 - $35
From February 24 to February 28 - $40
$40 at the Door (Meals will not be included)
Registration is free to Lone Star College students.
Registration is free to Animal Control Officers who pre-register before February 23 or $15 after February 23.