Service, Training, Officers, Prevention Program (STOPP)
What does STOPP do?
If you or someone you know is a victim of dating or domestic violence, sexual assault or stalking, help is available. All services provided by STOPP and community partners are free and confidential for all LSC students, staff and faculty.
How does STOPP address these issues?
Preventive Measures
Awareness-raising and educational events, programs, and presentations
Referral Services
Referrals to agencies that provide comprehensive services for survivors/victims of domestic violence, dating violence, sexual assault, and stalking
What can STOPP offer you?
Along with our Coordinated Community Response Team, STOPP offers a wide range of services, which include, but are not limited to:
Referrals and Resources
Counseling Services
Academic Advocacy
Assistance with Protective Orders
Shelter Services
Presentations and Training
Awareness-Raising and Education
LSC has zero tolerance for relationship violence, sexual violence and stalking.
Brochures and Flyers
| | |
| --- | --- |
| | STOPP Brochure |
| | STOPP Brochure - Spanish |
| | STOPP Brochure - Vietnamese |
| | STOPP Brochure - Large Print.pdf |
| | |
Mission & Vision
Mission: To assist in the compassionate and effective delivery of crime victim services by offering assistance, information and resources to crime victims as well as education to the Lone Star College System (LSCS) community and staff.
Vision: The STOP Program envisions a campus environment free of sexual assault, domestic violence, dating violence, and stalking.
Goals
Through strong partnerships with campus members and community agencies the STOPP goals are to:
Form a coordinated and comprehensive referral program to provide services to victims of violence
Establish a mandatory education program for all new students
Provide a training program for on-campus law enforcement personnel
Conduct training for LSCS Behavior Intervention Team members, advisors, and staff, and
Promote campus policies and protocols that effectively identify and respond to the crimes of sexual assault, domestic violence, dating violence, and stalking.
STOPP Committee/Coordinated Community Response Team includes members from:
Montgomery County Women's Center
Houston Area Women's Center
Montgomery County District Attorney's Office
Harris County Constable Precinct 4
Communities in Schools
LSC Disability Services
LSC International Programs
LSC-North Harris Women's Resource Center
LSC Police Department
LSC Student Development
LSC Office of Emergency Management
Contact Information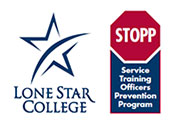 For Referrals/Advocacy Services Contact:
STOPP Program Manager
Telephone: 281.290.2891
Fax: 281.290.3712
LSCSStopp@lonestar.edu
Address:
LSCS STOPP
20515 SH 249
Houston, TX  77070
Campus Police
For emergencies or to report a crime, contact:
LSCS Police: 5911 or 281.290.5911
LSC-North Harris Women's Resource Center
LSCS Employees
Employee Assistance Program
713.500.3327
Area Resources
Domestic Violence Hotline
713.528.2121
TDD 713.528.3625
Toll Free +1.800.256.0551
Sexual Assault Hotline
713.528.7273 (RAPE)
TDD 713.528.3691
Toll Free +1.800.256.0661
Montgomery County
Women's Center
24 Hour Crisis &
Shelter Hotline
936.441.7273
TDD +1.800.735.2989
Counseling and Advocacy
281.292.4155 ext. 269
Harris County Constable
Precinct 4
Family Time Crisis and
Counseling Center (Humble)
281.446.2615
Montgomery County District Attorney's Office
Northwest Assistance
Ministries (NAM)
Family Violence Center
281.885.4673 (HOPE)
1.888.750.4673 (HOPE)
For more listings of service providers in Texas, please visit the following websites:
Texas Association Against Sexual Assault
Texas Council on Family Violence

More Resources