Success Connections
Mission Statement:
Success Connections is a collaborative effort between faculty, staff and students to help students get back on track academically. Our goal is to promote academic success by connecting students to resources and to improve students motivation.

Referrals
Please choose the appropriate referral link below.

Contact Information
Phone: 281.290.3705
Email: UP-EarlyAlert@LoneStar.edu
Located in Student Services B13.200
Event Photos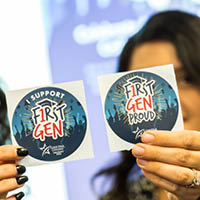 First-Generation College Student Day event.