LSC-University Park Fall Registration
Welcome to Lone Star College-University Park! Innovation meets education on our campus, conveniently located at State Highway 249 and Louetta Road. We invite you to build the future you have always imagined here. Most Fall classes begin the week of Aug. 24, so start the registration process now! Below you will find information to help you enroll.
Admissions – Apply to Lone Star College
All students applying for Fall must follow Lone Star College admissions guidelines.
Academic Advising & Registration
LSC-University Park encourages students to participate in advising. Meet with a counselor or advisor to choose courses and make appropriate decisions concerning your academic goals.
The Counseling Services staff is available year-round to guide students regarding prerequisites, course transferability and career choices.
View the detailed registration schedule and important dates on our Academic Calendar.
A full-time course load is 12 to 18 credit hours. An overload is defined as attempting more than 18 credit hours in the fall or spring term. An overload during any term must be approved by the academic vice president or designee.
Review the classes offered at LSC-University Park to see which ones may work best with your schedule. Classes may fill up quickly, so we recommend that you register as early as possible. Also check this listing periodically to see if additional class sections are available.
Late Start Options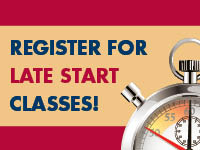 If you miss registration for the traditional Fall semester, LSC-University Park offers Late Start classes with various start dates in many subject areas.
In addition, you can start our fully online Business AA degree program on your own schedule.
Payment for early registration for Fall 2017 tuition and fees is due in FULL by August 19, 2017. After this date, payment is due upon registration. For more information, visit our payment page.
To see our affordable in-district, out-of-district and out-of-state rates visit our Tuition page.
Financial Aid
The priority deadline for submitting Financial Aid documents for the Fall 2017 semester is July 15. Students who apply after that date are still eligible for financial aid, but may need to pay their tuition by the payment due date.
You must make Satisfactory Academic Progress to retain eligibility.