LSC-University Park Graduation
Spring 2017 Commencement
Commencement Date and Time:
Champion Forest Baptist Church Worship Center
15555 Stuebner Airline Road
Friday, May 12, 2017
7 p.m.
Graduates are expected to arrive in the Choir Room of CFBC by 5:30 p.m. to ensure participation in the ceremony. There will be signs and Student Ambassadors to direct you to this room.
Live Streaming of Ceremony
Graduation Ceremony Etiquette
Celebration should be respectful of other members of the graduating class. Every graduate would like for family and friends to hear his or her name called when receiving a certificate or degree.
Graduates and guests should keep talking and movement during the ceremony to a minimum.
Please leave all personal belongings (cell phones, purses, etc.) with your guests, as you will not be allowed to check in with these items.
Balloons, floral arrangements, and noisemakers will not be allowed in the ceremony.
No food or drinks will be allowed in the ceremony.
Remember to have fun as you take this very important step towards personal and professional enrichment.
Regalia Policy
Participants in the ceremony must wear the approved cap and gown, which is available at the LSC-University Park Bookstore for approximately $39 plus tax. If cost presents an issue, please contact UPGraduation@LoneStar.edu. Generic invitations/announcements in packages of 10 will also be available to purchase at the bookstore for $11.95 plus tax.
Graduates will not be allowed to participate in the Commencement ceremony with unapproved alterations or adornments to caps and gowns. Phi Theta Kappa and Psi Beta members may wear their stoles and medallions.
Commencement Photography
A professional photographer from Flash Photography will take a photograph as you are recognized on stage. Photographs may be taken by your family and guests from their seats; however, no one is permitted to block the aisles.
Flash Photography may be reached at 888.325.3930.
Commencement Information Letter
Information about the ceremony was sent to all UP graduates' My.Lonestar email accounts. In addition, candidates for graduation will also receive a letter in the mail with detailed information about the ceremony. If you have not received this letter, please contact UPGraduation@Lonestar.edu from your My Lonestar email, with your student ID number.
Commencement Orientations
If you would like to participate in the LSC-University Park Commencement, you must attend one of the following orientations in B13.210:
Wednesday, April 26, 10 - 11 a.m.
Tuesday, May 2

,

3 - 4 p.m.
Tuesday, May 2

,

6 - 7 p.m.
Thursday, May 4

,

6 - 7 p.m.
Due to limited seating, we kindly request that only graduates attend the Commencement orientation.
Please remember to check your My Lonestar email for important updates about Commencement and your graduation status.
If you have any questions, please email UPGraduation@LoneStar.edu.
Congratulations!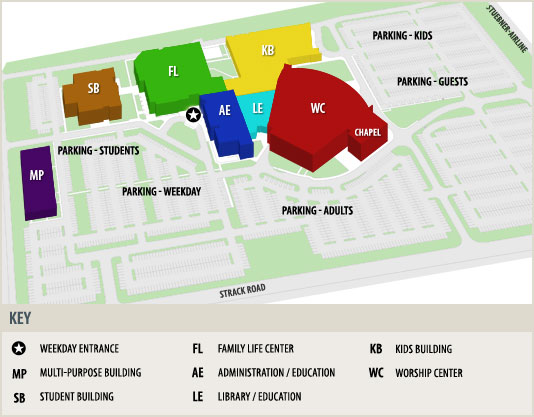 The ceremony will take place in the Worship Center (labeled WC on the map).