Director's Bio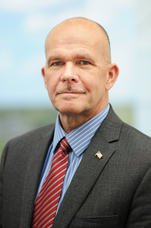 Serving as the Executive Director, Veteran Affairs, Dr. Steven L. Hall, a 25 year Air Force Veteran, joined Lone Star College to continue a rich tradition of serving the men and women of the Armed Forces which consists of Active Duty, National Guard, Reserve, Veteran, Military Spouse and Dependents.
He earned his Doctoral degree from Trident University International in Educational Leadership, his Master's degree in Business Admin, with an Emphasis in Government and Policy from Grand Canyon University and his Bachelor's degree in Business Admin with an Emphasis in Applied Management, also from Grand Canyon University, Ken Blanchard's College of Business.
Since retiring from the Air Force in 2006, Dr. Hall has worked in both Arizona and California post-secondary education systems and currently proudly serves in the following capacities:
President, Centurion Military Alliance (CMA)
President, Council on Military Education in the South (COMETS)
Dr. Hall has also served in the following prior capacities:
National Director of Veterans Affairs for higher education, advising/consulting with senior leadership at the Department of Defense - Voluntary Education Programs (DOD-VolED)
Service-Members Opportunity Colleges (SOC) Consortium and SOC Degree Network System (SOCDNS)
The Council of College Military Educators (CCME)
Senior Military Affairs Advisor to the California Advisory Council on Military Education (CA-ACME)
Dr. Hall looks forward to supporting Lone Star College's ongoing mission to providing best in class services, addressing the distinct needs of our Veteran and Military-Affiliated student populations.