Vice Chancellor, Chief of Staff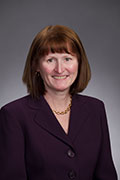 Helen Clougherty serves as Vice Chancellor, Chief of Staff for the System Office in The Woodlands. In her role, Clougherty is responsible for working with the Lone Star College Board of Trustees as the primary liaison and oversees Organizational Development, the Lone Star College Foundation, Marketing and Communications and the Conference Center.
The Lone Star College System Board of Trustees is responsible for ensuring that the Lone Star College System is an integral part of their communities and serve their ever-changing needs. To ensure effectiveness, the Board should function as a cohesive group to articulate and represent a balanced System and public interest, establish a climate for learning and monitor the effectiveness of the System. The Board does not do the work of the System; rather it establishes vision for the work through the policies it sets.
Organizational Development (OD) is a Lone Star College department that serves the entire college by connecting organizations, people, strategies, and processes to enrich the culture of Lone Star College through empowering its members.